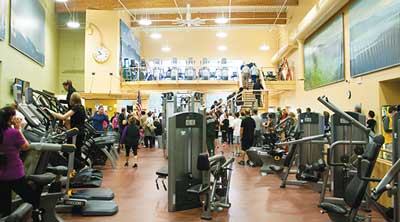 Salem Kroc Center expands fitness resources
Center's new fitness mezzanine adds 1,000 sq. ft. and 24 cardio machines to existing equipment.
By Julie Matovich
The Salvation Army Ray and Joan Kroc Corps Community Center in Salem, Ore., dedicated its new fitness mezzanine Sept. 7.
An answer to member requests for more fitness space, the mezzanine added 1,000 sq. ft. and 24 additional cardio machines to the existing fitness floor. The assorted cardio equipment is state-of-the-art and allows members to surf the web or watch TV while exercising.  Perched at the far end of the building, patrons have a bird's eye view of the facility or the outdoors through large picture windows.
"We are grateful for the generous support of our divisional headquarters on this mezzanine project," said Major Kelly Pontsler, Marion and Polk counties coordinator and Salem corps officer. "Their support has enabled us to raise the level of services to meet the needs of our Kroc community."
Divisional Commander Lt. Colonel Judy Smith dedicated the mezzanine. Pontsler accompanied her, along with Herb Sims, local advisory board chairman; Chris Morris, principal, CB Two Architects; and Jeff Perrin, senior project manager, LCG Pence Construction.
CB Two Architects were part of the original design team for Salem Kroc Center, and LCG Pence was the lead contractor.