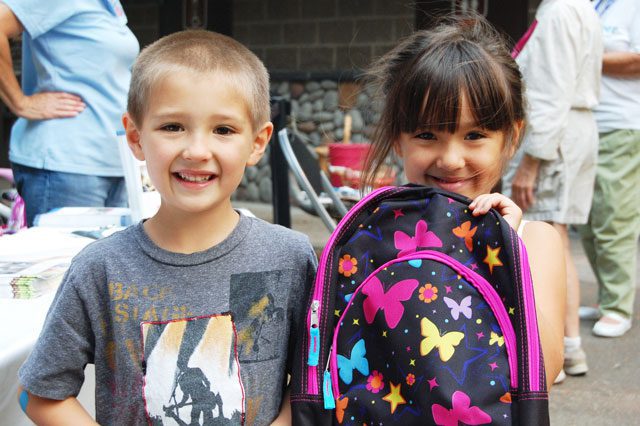 Salem's 'Tools for School' serves city and county students
The Salvation Army takes its back-to-school campaign out of the city into rural communities.
The Salvation Army in Salem, Ore., held its annual Tools for School distribution August 21 at the local Ray and Joan Kroc Corps Community Center, August 13 in Lyons, a rural community in Marion County, and August 14 in Falls City in Polk County. The campaign provides school supplies to students in need from kindergarten through 12th grade.
In Salem, the public could drop off school supplies or monetary donations at Shopko, Salem Fire Department stations and local Fred Meyer stores, as well as the Kroc Center.
"Proper school supplies are a basic need for school children," said Major John Stennett, Salem Kroc Center corps officer.  "We want to ensure children have the tools they need to start the school year because that directly influences their ability to succeed."
During the event, one child wrote, "This is the BEST day of my life," on a thank-you banner.
"A teenager told us his family is having a rough time…with not enough money for gas and food, let alone school clothes and backpacks," said Melissa Bauer, director of social services for The Salvation Army Ray and Joan Kroc Corps Community Center. "He told us he wished he could find a way to let us know how much he appreciated what we did. We told him, 'You just did.' Him thanking us meant the world."
The Salvation Army, helped by community volunteers, distributed almost 1,000 backpacks filled with supplies at the event.
The Army also organized a back-to-school shopping spree at Shopko, which donated a $500 grant and encouraged customers to donate. Salem Sign Co. and Salvation Army employees and board members also contributed, so that 34 kids could shop with $100 each.
For the Lyons drive, The Salvation Army partnered with United Way of Mid-Willamette Valley and the Lyons Public Library.  The distribution event took place at John Neal Memorial Park, where Mari-Lynn School students received backpacks filled with supplies.
"After The Salvation Army held a similar event in Falls City last year, we wanted to find a way to serve a community in rural Marion County," Baurer said. "Due to transportation obstacles, Lyons Public Library officials and school officials worried that their students are not able to benefit from neighboring school supply distributions. For this reason and based on the number of children in the district receiving lunch assistance, we decided to take our Tools for School distribution directly to the community of Lyons."
The Army held a distribution in Falls City again this year. The Lyons and Falls City events–which served about 250 students–featured a barbecue meal, bounce house, hair cuts, bike giveaways, immunization shots and and service providers offering information on resources.
"Our goal is to help students confidently begin their school year prepared to learn," Stennett said.