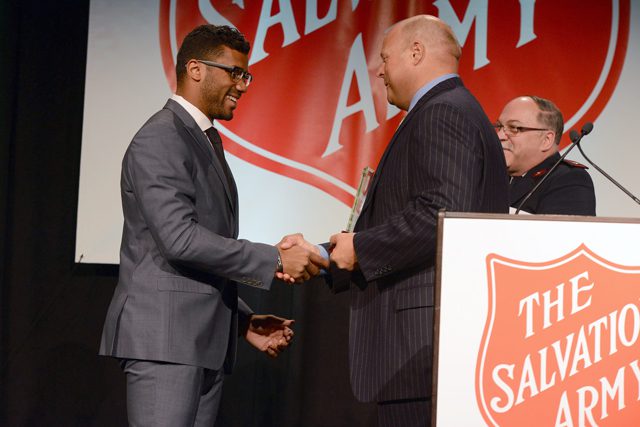 Salvation Army honors Seahawks' Russell Wilson
 Wilson presented with Arthur S. Langlie Award for his leadership and service in Seattle.
By Lora Marini Baker – 
The Salvation Army Northwest Division honored Seattle Seahawks quarterback Russell Wilson with its Arthur S. Langlie Award for visionary leadership at the annual Red Kettle Luncheon in Seattle in May.
The award, named for a long-time advisory board member and volunteer, is presented annually to an individual or group that epitomizes leadership and selfless service. Past recipients include the Bill & Melinda Gates Foundation, The Seattle Times Fund for the Needy, and Kathy Holmgren.
"There are few people who exemplify the generosity, leadership and service to others as Russell Wilson," said Divisional Commander Major Doug Tollerud. "It is an honor to present this award to him. He is sure to inspire others to give more of themselves to help the community."
Wilson spoke to the group of 700 guests at the luncheon.
"The most important thing I think about is the lesson my mom and dad both taught me, and that's to serve other people and be willing to give back," he said. "There's a Scripture that's been on my heart for two years and that's John 3:30: He must increase, but I must decrease [NASB], and that's what life's about. That's what Jesus came on this earth to do—to die for our sins and to help other people and to serve other people and give back."
King County Advisory Board member Arthur K. Langlie, son of Arthur S. Langlie, chairs the committee that selects the recipient each year.
"Many people are aware that Russell Wilson donates his time to help others, but most have no idea how much time he dedicates," Langlie said. "Most of his service to others is not shared publicly, which is exactly what my father believed. If my dad were here today, I know he would be delighted that Russell's leadership and service to others are recognized with this award."
The Super Bowl-winning quarterback is compassionate about giving back to the community, making time for regular visits to Seattle Children's Hospital. In the offseason, he hosts the Russell Wilson Passing Academy, a youth football camp, in several cities. He is a national ambassador for the Charles Ray III Diabetes Association, and has volunteered at Joint Base Lewis-McChord (US Army) and Boys & Girls Clubs of America.
Recently, Wilson founded the Why Not You Foundation, with its mission to "empower change in the world one individual at a time." In October 2014, the foundation worked to raise awareness and funds for domestic violence survivors through its "Pass the Peace" initiative. In an article published in The Players Tribune, Wilson wrote: "Domestic violence isn't going to disappear tomorrow or the next day. But the more that we choose not to talk about it, the more we shy away from the issue, the more we lose."
This year's Red Kettle Luncheon marked double the attendance and raised 50 percent more than in 2014. The roughly $360,000 raised will help sustain The Salvation Army's work in King County.
In addition to the money raised at the luncheon, The Salvation Army in Seattle raised $1,075 with an online auction of a VIP Seahawks Experience. Generous donors provided two prime seats to a game, two pre-game sideline passes, a Seahawks helmet signed by Russell Wilson, and two passes to a local TV station to watch a future broadcast of the "Seahawks Gameday LIVE" post-game show. The online auction took place at the Northwest Division's eBay site, shopthesalvationarmy.org.