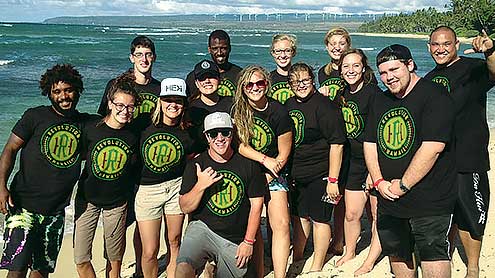 Revolution Hawaii finds its Homelani
Salvation Army's North Shore camp to serve as RevHi training base
Revolution Hawaii is expanding to Homelani, which means "heavenly home."
Directed by Rob Noland, the Revolution Hawaii program offers mission opportunities in the Hawaiian and Pacific Islands Division to Salvation Army youth 18-29 years old.
"We're launching Campus Homelani, which will serve as a starting base for Revolution Hawaii's mission training and outreach programs," Noland said.
Located along the beaches of the North Shore of Oahu, The Salvation Army's Camp Homelani has long provided a safe summer experience for children. It's now taking on a new function.
"Our passion at Revolution Hawaii is discipling young adults," Noland said. "Over the past seven years we have witnessed wonderful success in this but feel we are just scratching the surface. With this expansion we hope to equip and engage a greater number of young adults to 'fight the good fight' and win the world for Jesus."
Beginning this year, Revolution Hawaii will offer a variety of mission training tracks at its new home on an ongoing basis. The "365" track is a one-year mission intensive in Hawaii and abroad. "Essentials" will give participants a three-month taste of Revolution Hawaii, and is offered twice a year. The "Missions" track involves a three-month mission in Micronesia or the Republic of the Marshall Islands.
"We realize not everybody can give an entire year so we've added the three-month Essentials program to accommodate those wanting to experience Revolution Hawaii," said Associate Director Fulton Hawk. "Offered in both September and February, Essentials is perfect for those who are in between jobs, semesters, majors or are just looking for a firm foundation before deciding what's next in life."
Other tracks focus on service. The "Surf" track teaches participants to serve like Jesus, with time allocated to surf. "Summer Camp" is a specialized track for those interested in helping with kids' camps. "Nehemiah" is a recovery track with work experience that focuses on spirituality.
"Waking up to see the waves and the sunrise every morning brings me to a place of gratefulness and peace," said current team member Dylan Mosshart. "What an amazing start to my mornings."
Find more at revolutionhawaii.com.