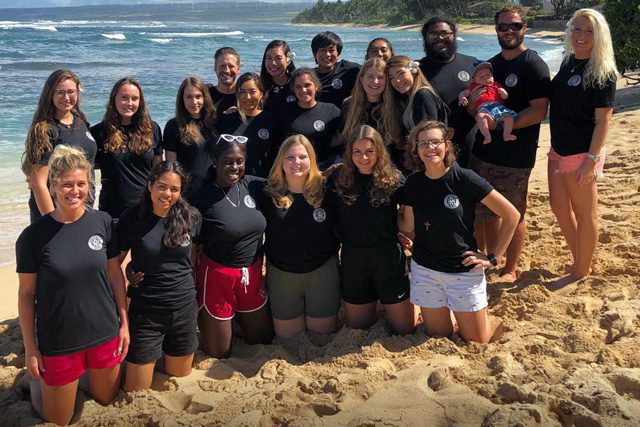 Revolution Hawaii: committing to discipleship
Program keeps young adults rooted in their faith and active in service.
By Karen Gleason –
At Revolution Hawaii (RevHi), The Salvation Army Western Territory young adult discipleship program based at Camp Homelani on Oahu, the ocean is an ever-present backdrop. The program, however, is much more than a day at the beach.
The RevHi ministry reaches the island's darkest corners and some of its oft-overlooked inhabitants. Program participants can sign up for a year-long "365 mission" or for a three-month "essential mission." Although RevHi is a Salvation Army program, participants need not be a Salvationist. Most are, but occasionally someone finds the RevHi website and feels called to sign up. Those who do apply are committing this portion of their lives to Jesus—to active discipleship.
Founder and Director Rob Noland and Assistant Director Fulton Hawk are passionate about the program and its purpose: to keep young people rooted in their faith and active in service to others based on Jesus' teachings. Noland, who launched RevHi in 2006, united it with Camp Homelani's ministry in 2013 when he also became camp director.
The program offers a solution to a problem Noland and Hawk have witnessed: that people often leave the church in their late teens and early 20s.
In a LifeWay Research survey on reasons this age group leaves the church, one-third of survey participants said churches were hypocritical or judgmental.
"One number worth investigating says 71 percent of people who dropped out didn't plan on doing so," Relevant Magazine reported on the research. "There's still a desire for church, and perhaps even a reluctance to leave, but 18 to 22 remains the critical time when many are deciding the church isn't for them."
RevHi's premise is that the answer is simple, but not easy. Its website sums it up: "Love God, Love Others—Keeping it simple doesn't mean keeping it shallow. We find that living simply and loving deeply is the key to finding meaning to life."
Not long after arriving, team members spend a week living at a well-established homeless encampment on Oahu's west side, at Waianae Boat Harbor, where RevHi has developed a relationship with camp leaders over the years. The team is welcome, and members spend time building relationships and helping with chores and projects.
About a week after returning from Waianae Boat Harbor, team members take part in a covenant service, held on the cliffs of Honolulu's Spitting Caves. Now that they know what the RevHi mission entails, they are ready to acknowledge their commitment. While the service is deeply spiritual, it also has its fun, "Survivor"-type moments, including some conch shell-blowing.
During this year's cliff-top experience, Noland encouraged team members to share their testimonies.
"This is the 13th team we've brought here to be committed, immersed in loving Jesus, following him," he said. "This is something so different than what the rest of the world is doing. You're being stretched."
He said he wanted to encourage them, and that the best is yet to come.
"You'll be doing kingdom-building just by chasing after Jesus," he said. "You're impacting lives. You're not here just because it's Hawaii. I'm proud of you."
Team members began to speak. Some spoke of increased confidence in the knowledge that God is working through them. Others told of how far they've come since last year, when they had no idea that they'd end up here. Others shared they were calmer, less hot-headed, and of an increased awareness of God's constant presence and understanding.
Hawk handed out pebbles to team members, asking them to close their eyes and focus, envisioning first the rest of their time at RevHi and then what it will be like when they return home.
"Imagine the best-case scenario," he said. He reminded them of Jesus' words when he called the disciples to follow him. "Jesus calls us to lay our expectations aside. God says my plan for you is better. Your plans are like this little pebble. Pray that you give up your plans for his. It's a complete sacrifice. Trust God."
Participants threw their pebble into the ocean and signed a covenant, vowing to live as a follower of Jesus in Christian community. A mentor prayed with each team member and the covenant service ended with the formation of small groups, each assigned to a local corps and community.
Each week, these small groups spend two days ministering to the community and helping with the Sunday service, perhaps leading praise and worship, giving a testimony, reading Scripture, greeting people or providing childcare. Two weekdays are reserved for maintenance and chores at camp, and Saturday is reserved for group excursions. Sunday is the busiest day. After serving at their assigned corps in the morning, they come together for the Upper Room evening service at the Kauluwela Mission Corps in Honolulu, which precedes a community meal and a PB&J sandwich outreach to people experiencing homelessness in Chinatown. They return to Camp Homelani late Sunday night. Monday is their day of rest.
Many RevHi participants say they are profoundly impacted by the Sunday night outreach; the experience affects them in ways they didn't expect.
"The people I've met on the street…taught me how to find joy in all circumstances," said Emma Quan, from Vacaville, California, who is not a Salvationist. "God is a loving Father; he is good and he never changes. Life is hard sometimes, but God is still good and he doesn't love us any less."
Team member Natalie Alonso, said she avoided God's call to attend RevHi for years. Alonso, who is from Punta Gorda, Florida, is also not a Salvationist. When she finished college and didn't secure a job in her chosen field, she realized she was out of excuses. She responded to the call.
"Coming here has made me want to know and love God even more," she said. "The officer at my corps said, 'I don't want you to come to church to be spiritually fed; I want you to come here to get hungry.' And that is what RevHi has done for me—I came here thinking I would get fed, but what is so awesome is that RevHi has made me hungry to know God more."