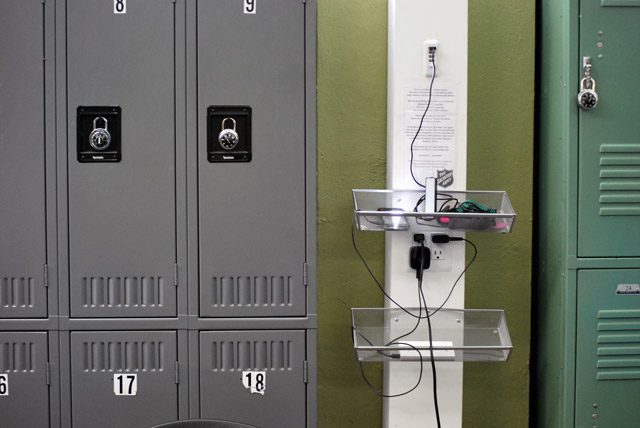 Residents recharge at SAFES
The Salvation Army sets up a charging station at its Portland women's shelter.
If you fully drain and recharge your iPhone every day, the electricity cost is about 25 cents per year.
SOURCE: Electric Power Research Institute, Apple
The Salvation Army Female Emergency Shelter (SAFES) recently installed a cell phone charging station at its facility for clients to use.
The idea emerged after two homeless individuals were arrested last year in Portland and charged with third-degree theft for stealing the city's electricity by plugging their phones into outdoor outlets that are used during street festivals.
Prosecutors eventually dropped the charges; however, the story spread and made known the importance of cell phone communication to people experiencing homelessness. Not only is it a lifeline to friends, family and service providers, but it is also a key element in securing employment or job interviews.
As the largest provider of shelter for homeless women in Portland, The Salvation Army took action. Mark Fagerstrom, executive director at SAFES, and employees Kevan Edwards and Gordon Spath collected the necessary electrical components, some plywood and paint and went to work.
The result was a compact, surge-protected, self-contained charging station with five powered USB ports and an electrical box with four dedicated outlets.
"Sometimes, it's the simple and practical things that provide an obvious support," Fagerstrom said. "Our job at SAFES is to connect the women we serve to opportunities that will lead to employment and housing, and you can't do it with a low battery. We are about empowering women for success. Making it simple and easy to get plugged in and connected in a digital age is just one more way we can give the women of our community the tools they need to succeed."
Fagerstrom tested the prototype and was pleased with the outcome.
"I tested it by plugging in all of my wife and daughter's devices; iPads, Kindles, phones…it seemed to work well and there were no sparks, so I plugged mine in, too."
When Teresa Steinmetz, director of communications and marketing for The Salvation Army in Portland, visited SAFES, she saw several cords already plugged into the charging station.
"Our ladies shouldn't feel criminalized because they need to plug their phone in," Fagerstrom said. "This charging station is a simple idea that empowers them—and they can enjoy a cup of coffee and the local news while they wait."