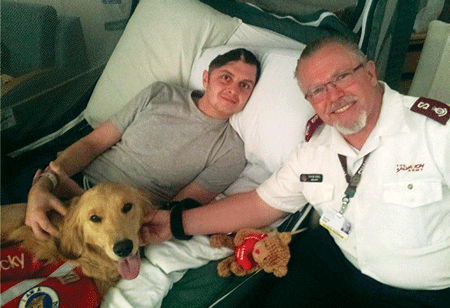 Rescued to rescue
Bucky, along with Major David Ebel, helps a man recover
Bucky was training to become an assistance dog when his previous owner struck him, causing Bucky to suffer from severe anxiety attacks. He was then too nervous and frightened to be an assistance dog.
Hoping to help rehabilitate him, Escondido Corps Officer Major David Ebel adopted the shy puppy and took him to visit patients at the hospital. There, they happened to peek into Michael's room.
Michael had been badly injured. According to a witness, during a pick-up game of pool, a player became angry and sucker-punched Michael. He was knocked out, fracturing his temporal lobe and cracking his skull. When he awoke, he could only move his thumb. Progress was slow and Michael became depressed and discouraged.
The first time Bucky and Michael met at the hospital, they were both shy; but Michael asked if Bucky could come back. On the next visit, both man and dog were transformed.
"I lifted him and immediately Bucky cuddled Michael with his back resting against Michael gently," Ebel said. "Michael whispered to Bucky, 'You're beautiful.' They were that way for 20 minutes, with Bucky licking Michael's hands."
Michael says Bucky helped him turn the corner in his recovery. His wife agreed saying, "Michael's happier! Bucky has helped his entire perspective. I think part of it is seeing the puppy that was hurt and knowing that he made it. Bucky gives Michael hope."