Reno Corps reaches out to community
Corps takes part in Project Homeless Connect and sponsors the Feed the Hungry Feast.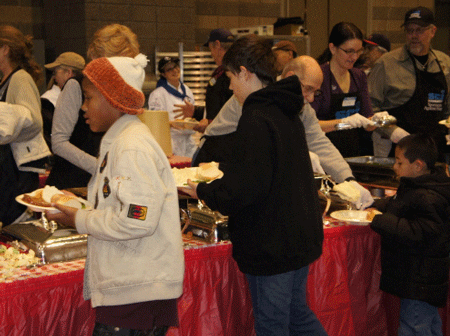 The last day in January was busy for The Salvation Army Reno (Nev.) Corps, as it participated in two large-scale events aimed to help the community's less fortunate—Project Homeless Connect and the Feed the Hungry Feast.
More than 600 people, who braved the cold weather to attend the 4th annual Project Homeless Connect, found the Reno Events Center transformed into a beauty salon, a food pantry and other booths that offered struggling families free supplies and services. The Reno Corps brought its emergency canteen, serving 420 cups of coffee. Attendance at this event increases each year.
Later that day, 1,650 people enjoyed meat loaf, potatoes and gravy, salad, rolls, cake and milk at the 14th annual Feed the Hungry Feast. The Reno Corps sponsored the community meal, with the local chapter of the Safari Club International providing 800 pounds of ground venison and 300 pounds of ground beef for the meatloaf. The Eldorado Hotel prepared the food. Other sponsors included the Reno-Sparks Convention & Visitors Authority, C&M Distributing, Harrah's Reno, Model Dairy, Truckee Sourdough Company, Sierra Sportservices and U. S. FoodService.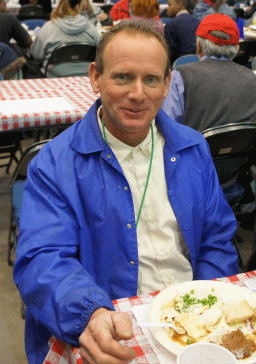 "The Reno community is still experiencing a struggling economy," said Reno Corps Officer Major Janene Zielinski, "and a free hot meal at the end of a long winter month is very appreciated by families and individuals."
Over 160 community volunteers helped serve the meal, including members of The Salvation Army advisory board and women's auxiliary. Corps soldiers, adherents and adult rehabilitation program alumni welcomed people and engaged them in conversation. Volunteers distributed small toys to children and gave out packets of information, prepared by the junior soldiers, which listed the corps' services.
Majors Michael and Janene Zielinski are corps officers in Reno; Captains Michael and Rachel Johnson are assistant corps officers.