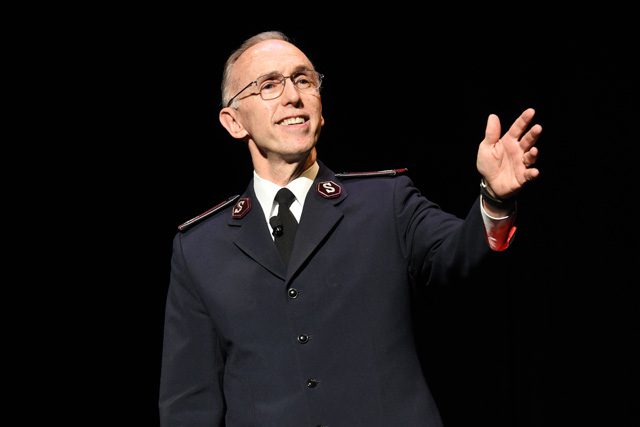 Remember: An Easter message for today from Luke 24
By Kenneth G. Hodder, Commissioner –
"He is not here; he has risen! Remember how he told you, while he was still with you in Galilee: 'The Son of Man must be delivered over to the hands of sinners, be crucified and on the third day be raised again.'" Then they remembered his words (Luke 24:6-8).
It was all over. Jesus had been tried, convicted and crucified. He was well and truly dead. His lifeless body had been prepared, wrapped in cloths and placed in a tomb. That tomb had been sealed with a stone, and guards had been placed outside to prevent his disciples from stealing away the corpse. Of course, that probably wasn't even necessary, as the ragtag collection of ill-educated fishermen and social outcasts that had followed Jesus were thoroughly terrified by the fate that had befallen their leader. In fact, one of the most prominent of them had publicly denied that he ever knew the man. So there was every reason to believe that the matter had finally been put to rest, both literally and figuratively.
Religious leaders, government officials, and indeed, the community as a whole could now go back to pursuing their own agendas. There would be no more interference from that man who had dared to challenge their power, their priorities, and most disturbingly, their thinking about how the world ought to work. They were in charge once again, and they thought that they could now sit back and watch his followers simply fall away one by one. The name of Jesus would grow less influential with each passing day. The so-called "good news" would be revealed as nothing more than an emotional crutch for the weak and an intellectually bankrupt illusion.
But then came Easter morning. Jesus was physically resurrected from the dead, and in that moment, all of the suppositions upon which so many had based their plans and their claims to power abruptly vanished. The world was brought face to face with its own limitations, and the reaction was a mixture of confusion, fear and desperation. Even those who had followed Jesus initially found the message to be unbelievable.
But then, as the Scripture says, they remembered. And suddenly, it all made sense. 
Over the past six weeks, almost every day has brought fresh challenges to our thinking about the way things work. COVID-19, for which there is no cure, is a slow-moving earthquake. It is a disaster without edges. The virus does not discriminate. No one is beyond its reach. Medical supplies are insufficient, and testing is inadequate. It brings economic hardship, widespread illness and death.
But beyond its physical effects, COVID-19 is also violently shaking the intellectual foundations upon which many have built their lives. It tears down confidence, leaving only fear and uncertainty. It triggers loneliness and a profound sense of helplessness. So on top of invading our bodies, the virus attacks our minds, grinding us down during the course of the day. Even after a fitful sleep in which we dream that it will all just go away, we wake up to the staggering realization that it's still there.
In response, let us do what Christ's followers did on that first Easter morning. Let us remember, for in that remembrance we will find strength. 
First, let us remember that we are more vulnerable than we often imagine ourselves to be. We are fragile creatures, and we are not in control of our own destinies. Quoting the prophet Isaiah, Peter himself would later write, "All people are like grass, and all their glory is like the flowers of the field; the grass withers and the flowers fall, but the word of the Lord endures forever."
So all of our plans are tentative. Yes, we have been made in the image of God, and our capabilities are amazing. But we are not God. He is limitless, but we are limited.
Let us also remember that we're not independent beings. We cannot simply live by or for ourselves. Far from it. We need each other, and we have a responsibility to care for one another. Admittedly, we are learning a whole new vocabulary by which to fulfill Christ's command to "love thy neighbor," a vocabulary that includes masks and gloves, social distancing, and for Salvationists, more frequent use of The Salvation Army salute. But the fundamental truth remains unchanged. More than ever, we must now remember to set aside our own interests in order to make room for "others." 
But above all, let us remember to tell the world that we are not alone. Because Easter proves that God has not deserted us, that he is greater than death itself, and that his love knows no bounds. The words that Moses first spoke to the people of Israel are just as reliable for us today: "Be strong and courageous. Do not be afraid or terrified . . . , for the Lord your God goes with you; he will never leave you nor forsake you" (Deuteronomy 31:6).
My father has a prodigious memory. He sometimes tells a story of his life as a young boy during WWII, when he and his family lived in London. Many was the night that they had to endure the terror of bombing raids on the city. When the air raid sirens blew, his mother, a woman of deep, abiding faith, would gather him under the stairs of their home. And as she held him close, she would gently rock him back and forth, singing the words of an old Salvation Army chorus. 
Many years later, while serving as a chaplain with the US Navy in Vietnam, my father found himself one night driving a jeep on a dirt road outside the base. There was no moon, and clouds obscured the stars. And then, the jeep broke down. My father was well aware of the fact that the enemy had recently been active in that sector, and as he sat there, all alone and in complete darkness, he was afraid. Yet in that moment, with images of home and family racing through his mind, he suddenly recalled those fearful nights under the stairs in London. And the words of that chorus came back to him: "He knows. He knows the storms that would my way oppose. He knows. He knows and tempers every wind that blows." 
God knows what you're going through right now. And he'll care for you in the midst of it. Because Christ's victory over death means that there are no restrictions on what he can accomplish. His limitless power stands in stark contrast to the frightening limitations of our own human thinking and resources. When we say: 
He'll never forgive me. 
I'll never get over that.
I just can't do this, or 
I don't believe that will ever happen. 
God changes all of it. What was it that Paul wrote in Romans 8? "If God is for us, who can be against us? He who did not spare his own Son, but gave him up for us all—how will he not also, along with him, graciously give us all things?" (8:31-32). 
It comes down to this. Faith in Jesus Christ is more than simply tweaking the edges of a human thought process, and his Church is not simply a gathering of the well-intentioned. To the contrary, the resurrection of Jesus Christ changed everything forever. It touched off an eternal transformation that can now give us hope and confidence far beyond that which we could ever manufacture for ourselves. We must never forget that fact. We must never forget that Christians are not called to think "outside the box." We're called to think "outside the tomb." 
Recently, I heard one Salvation Army officer define "hope" as the assurance that, notwithstanding the howling of the wind, the pounding of the rain, and the size of the waves, the shore line is still ahead. She described it as the conviction that, even though we may not be able to see it, the safety of the shore is there nonetheless. 
The events we see unfolding around the world today make it all the more important that we hold on to hope, a hope built on trust that is in turn grounded in our remembrance of what Christ has already done. It is our memory that will give us strength. After all, we trusted God enough to turn from our daily endeavors and listen to his message, we trusted him enough to drop what we were doing in order to follow him, we trusted him enough to get into the boat and leave the safety of the shore, and we trusted him enough to begin rowing in the direction that he set. So why should we not now, even when the wind and the waves seem ready to swamp us, trust him all the more to get us safely home? 
God has been faithful in the past, and he will be faithful now. So on this Easter Sunday, let us remember: 
His love has no limits, His grace has no measure
His power no boundary known unto men
For out of his infinite riches in Jesus
He giveth and giveth and giveth again. 
HOW TO HELP:
If you'd like to make a monetary donation, please

click here to make a gift.

Text 'GIVE' to 52000 to make a $10 donation to The Salvation Army. This will automatically add a one-time donation to your next mobile phone bill.

For information about volunteering, please visit

volunteer.usawest.org

.

To learn more about how to support The Salvation Army's relief efforts,

please click here

.