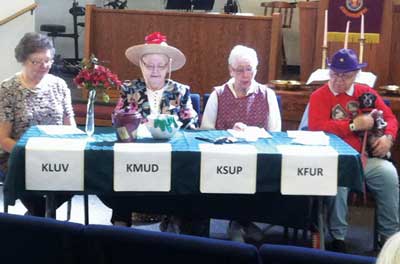 Puyallup Valley Corps provides second home for seniors
The center's new Reader's Theater is a hit among members.
By Carol Pontsler, Major
Every weekday, you will find seniors at The Salvation Army Senior Activities Center in Puyallup, Wash., participating in fun, evangelical activities that build character.
"It presents the opportunity to speak life into the seniors," said Carleta Alexander, a cook at the senior center. "I love to quote God's Word at work and [to have] the opportunity to enlarge the kingdom."
A variety of activities are scheduled throughout the week that include crocheting, ceramics class, woodcarving, sumi-e art, line dancing, and bingo. Bible study classes take place twice a week, along with monthly trips to Tacoma Little Theatre.
"How wonderful that we have such a variety of things to share," said Jan Rusler, activities director at the Senior Activities Center. "Everyone is welcome."
New this year is a Reader's Theater group. The group performs a 20 to 30-minute presentation every six to eight weeks. The beauty of this type of entertainment is that cast members do not have to memorize their lines, but can act with script in hand. The group is working on its fifth production.
Their last presentation, "What's on TV?," featured a senior trying to watch four of her favorite programs at once. As she clicked through the stations, each program finished the sentence the previous program started, resulting in many laughs.
Center members are also active in giving back to the community. The crochet group has contributed several dozen handmade lap robes to a local nursing home. Others participated in The Salvation Army camp walkathon last fall to raise money for local camp sponsorships.