Promoted to Glory/ Major Marjorie Akin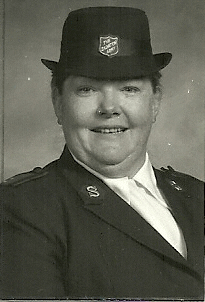 Major Marjorie Akin, 73, was promoted to Glory April 24, from Modesto, Calif.
Marjorie Helen Tibbens was born March 22, 1939, in Neosho, Mo., to Homer and Oral Kathleen Tibbens.
She was a Salvation Army officer for 27 years, serving with her husband, Gerry, until his death in 1993. They served at corps in Juneau, Haines, Anchorage and Wrangell, Alaska; and in Redding, Merced, Napa and Eureka, Calif.
After her husband's promotion to Glory, Marjorie continued on in appointments at the Eureka Corps and the El Sobrante Silvercrest before her retirement in 2001. In retirement, she was active in the Modesto Corps and led home Bible studies.
Akin is survived by three daughters: Jeanette Hayward, Laura Akin and Jennifer Akin; four grandchildren; three great-grandchildren; and her sister, Johnnie Mae Tibbens.
Major Frank Brown officiated at a memorial service at the Franklin & Downs Colonial Chapel in Modesto. Her interment was at Sunset Memorial Park in Eureka.