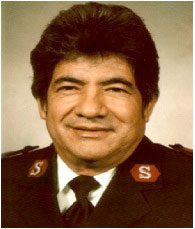 Promoted to Glory – Major Hector Orellana
Major Hector Orellana was promoted to Glory on Dec. 6, 2010, from Tucson, Ariz.
One of 10 children, Orellana was born on April 2, 1945, to Abelino and Angela Orellana in Chiquimula, Guatemala. He came to the Lord through his wife, Emma Leticia.
Orellana and Emma migrated to the U.S. in 1982. That same year, he was introduced to The Salvation Army Hollywood (Calif.) Corps and served there as a soldier for 13 years.
As one of the first pioneers of the Hispanic ministry in the Southern California Division, Orellana helped open outposts in Santa Fe Springs and Burbank. He became an auxiliary captain during that time. He served at the Denver (Colo.) Red Shield Corps for two years and the Salt Lake City (Utah) Temple Corps for two years. His final appointment took him to the Tucson (Ariz.) South Corps where he served as corps officer for 11 years.
Orellana possessed carpentry skills, which he used on short-term mission trips in the Marshall Islands, Alaska, Estonia and the Congo. He helped build the Nogales Corps in Sonora, Mexico, and the chapel in Hermosillo, Mexico.
Orellana served in The Salvation Army for 28 years. He is survived by his wife, Major Emma Orellana; nine children: Mauricio Orellana, Uriel Orellana, Marlon Orellana, Laila Orellana, Hector Orellana, Captain Angie Carcamo, Rolando Orellana, Glenda Avalos and Willy Orellana; his father, Abelino Orellana; and brothers, sisters and grandchildren.
The Tucson South Corps held a Commemoration of Life service on Dec. 10, 2010. Colonel Olin Hogan, Lt. Colonel Douglas Danielson, Major Abigail Diaz and Commissioner James Knaggs spoke.