promoted to glory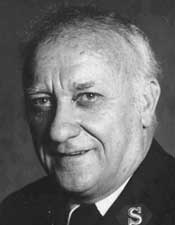 A/Captain William Ladlow Bearchell was promoted to Glory July 20 from Menifee, Calif.
Born Oct. 9, 1929, in New York, N.Y., Bill Bearchell was the oldest of a set of twin boys. He grew up in The Salvation Army, becoming a senior soldier of the Jamaica (N.Y.) Corps in 1944 and graduating from corps cadets in 1948.
In 1953, Bearchell graduated from Springfield College (Mass.), married Grace Emily Aitkin, and enlisted in the U.S. Marine Corps as a second lieutenant, enrolling in flight school.
Bearchell had several careers. After the Marine Corps, he became a pilot with TWA in 1957. He took on education administration in 1973. Finally, in 1982, he became an auxiliary captain in The Salvation Army. During his 12 years as a Salvation Army officer, he and his wife served at adult rehabilitation centers (ARCs) in Seattle and in Canoga Park, Pasadena and Oakland, Calif.
According to his family, the lifelong career that mattered most was that he was a dedicated Christian, husband, Salvationist/bandsman, father, mentor and friend.
Bearchell is survived by his wife Grace; sons Craig Bearchell and Major Brian Bearchell; daughters Janice Freeman and Joanne Callaway; his twin brother Robert (Bob) Bearchell; several grandchildren and great-grandchildren.
A memorial service took place July 27 at the Riverside County ARC with Lt. Colonel Doug Riley presiding.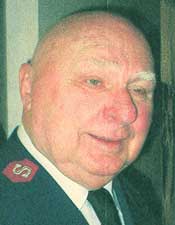 A/Captain Hubert (Bert) Lohman was promoted to Glory June 11 from Napa, Calif.
Hubert (Bert) Lohman was born in Hildesheim, Germany, Jan. 12, 1922, to Friedrich and Auguste (Duwe) Lohman. He graduated high school in Camden, N.J., and volunteered for the U.S. Army in World War II. Because he was fluent in German, he was assigned to work with British intelligence.
After his military service, Lohman worked nights while attending the University of Illinois. Graduating Phi Beta Kappa, he hoped to be a German professor. However, he became ill and a doctor told him he did not have long to live. He moved to Arizona where another doctor advised him he had been misdiagnosed.
Lohman met his wife, Jean Pettit, in Douglas, Ariz. They wed in 1950 and had three children: David, Darrell and Lisa.
The Lohmans served in The Salvation Army as auxiliary captains for over 12 years at the Napa (Calif.) Corps, retiring in 1987. They were known for their love of the people, including the advisory board and Kiwanis and Rotary clubs.
The First Baptist Church in Clearlake, Calif., held a memorial service June 29. Pastor Larry Fanning presided and Major Joy Brown gave a eulogy.
Major Bill Lane was promoted to Glory July 23 from West Jordan, Utah.
Bill Ray Lane was born Jan. 18, 1930, in Tulsa, Okla., to Harry Beryl and Grace Anne Lane. In 1937, the Lane family moved to Bell Gardens, Calif.
As a teenager, Lane met his future wife, Viola "Bunny" Angel, at The Salvation Army camp in Redondo Beach, Calif. He joined the Marines in 1948, becoming the cook at Camp Pendleton during the Korean War.
Bill and Bunny Lane entered The Salvation Army Officers Training College in 1953 and were commissioned with the Shepherds Session in June 1954.
During his 40-year career, Lane served in corps, adult rehabilitation centers (ARCs) and divisional headquarters (DHQ) appointments throughout the Western Territory. Corps appointments included Havre, Mont.; Walla Walla, Wash.; Kahului, Hawaii; Riverside and Merced, Calif.; Reno, Nev.; Albuquerque, N.M.; and Salt Lake City. He served as administrator of the Long Beach, Calif., and Tucson, Ariz., ARCs; and as service extension director, city coordinator and emergency disaster coordinator at Intermountain DHQ.
After retiring in 1994, the Lanes continued to minister in Utah in Salvation Army corps and the First Church of the Nazarene. Lane filled in at corps in Ogden, Utah, and Grand Junction, Colo.
After his wife's death, Lane later married Marian Mepham of Amherst, Mass., a former Shepherds Session mate.
Lane is survived by his wife, Marian; daughter, Becky Lane; sons, Mark (Laura) Lane and Kevin Lane; brother, Ken (Lea) Lane; three step-children, four grandchildren and five step-grandchildren.
A memorial service took place at the Salt Lake City Corps on July 29 with Corps Of ficer Major Richard Greene presiding.