promoted to glory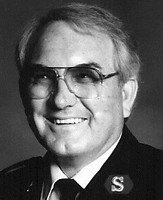 Major Loren W. Foote, Jr., was promoted to Glory Aug. 26, from his home in Monrovia, Calif.
He was born in Breckenridge, Minn., on Oct. 16, 1922, to Loren W. and Hazel B. Foote. When he was 5 years old, the family moved from Rosholt, S. D., to Washington State.
The Footes' involvement with The Salvation Army began when Hazel Foote accepted an invitation to a Home League meeting in Puyallup, Wash. The family continued to soldier at the Tacoma (Wash.) Corps.
Loren Foote graduated from Tacoma's Lincoln High School in1940. He met Margaret E. Stromsmoe in 1942 and the couple wed that October.
On Jan. 1, 1943, he reported for military service. He was first assigned to the 15th Army Air Force and then to the 772nd bomb squadron and 781st bomb squadron as an ammunition armament specialist NCO and carbine expert. Shortly after deployment to Pantanella Airfield Italy, he received word of the birth of his son, Loren D. He completed his active service and returned home in October 1945.
Daughter Donna arrived in November 1950 during the Footes' employment at The Salvation Army Boys and Girls home at Lytton, Calif. In 1954, they entered The Salvation Army School for Officer Training. They were commissioned in 1955, and appointed managers of the Men's Social Service Center in Spokane, Wash. They served at men's social service centers in Tacoma, Lytton, Phoenix, Ariz.; Seattle and Pasadena, Calif., and at adult rehabilitation centers in Van Nuys, Oakland and San Diego, Calif.
The Footes retired in 1987 from special assignment at territorial headquarters, and made their home in Monrovia, Calif., where Loren Foote enjoyed being a part of the door-to-door ministry at Christ Community Church.
Each day, Foote's first priority was to read God's Word and pray for family and others.
He is survived by his wife, Margaret; son, Loren D.; daughter, Donna (Michael) Kluch; grandchildren, Paul (Julie), Adam (Dawn), Noah and Christopher Foote, and Jessica Kluch; eight great-grandchildren; sister, Major Jean Upton; and niece, Christine Webb.
A service of remembrance took place Sept. 6, with Colonel Olin Hogan presiding.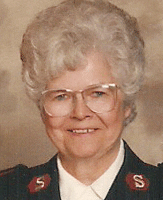 Major Viola "Bunny" Lane was promoted to Glory Sept. 1, from West Jordan, Utah.
Viola Angel—a second-generation Salvationist—was born April 5, 1931, in Southern California. Although named Viola, her older brother commented that she "cuddled like a bunny" and the nickname stuck.
Angel always knew she wanted to be a medical missionary. However, when she met Bill Lane while working at a Salvation Army summer camp in Redondo Beach, Calif., she felt called to work with him. They married in 1951 and entered the School for Officer Training, San Francisco, in 1953. They were commissioned in 1954 with the Shepherds Session.
Believing she was putting her lifelong desire of being a missionary on hold, Lane did not realize that her future Salvation Army assignments would include working among the Rocky Boy and Blackfoot Native Americans in northern Montana; ministering to women in the Washington State Penitentiary, Walla Walla, Wash.; and serving Hawaiian natives in Maui and Kauai.
Lane also worked with seniors in Riverside and migrants in Merced, Calif.; gambler families in Las Vegas; Hispanics in Albuquerque, N.M.; and Mormons in Salt Lake City. To complete her active service, she served with seniors in the greater five-state area of the Intermountain Division.
Lane served as president of Church Women United of Salt Lake City, Utah. For 40 years she worked as a home missionary—on her own—to many children and adults she considered her extended family.
Lane is survived by her husband, Bill, and three children: Becky, Mark and Kevin.
The Salt Lake City Corps held a service of remembrance on Sept. 8, with Commissioner Kenneth Hood officiating.