Promoted to glory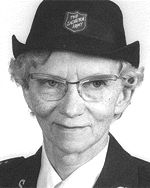 Brigadier Marie Pearl Anderson was promoted to Glory July 20 from Henderson, Nev.
Anderson was born April 19, 1917, in Cheyenne, Wyo., where her parents were envoys at the Cheyenne Corps. When the family relocated to Pueblo, Colo., they became active in the Pueblo Corps. Anderson participated in many Salvationist youth groups and activities.
After graduating from Pueblo's Central High School in 1935, Anderson enrolled at the School for Officer Training in San Francisco. She was commissioned with the World for God Session and took her first appointment in Casper, Wyo. She later served throughout the Western Territory with a final appointment in the territorial commander's office before her retirement in 1982.
One of Anderson's favorite responsibilities was directing the Booth Home in Anchorage, Alaska, in the early 1960s. While there, she survived the earthquake of 1964—the second largest in the world and the largest in the U.S., according to records.
After retirement, Anderson pursued a passion for traveling, journeying throughout Europe and the U.S. On one trip she visited the Holy Land and spent Christmas Day in Jerusalem.
In 2005, Anderson moved to Henderson, Nev., to be closer to family.
Anderson is survived by her nieces, Susan Smith and Nancy Anderson, and great-niece, Allison Johnson.
The Henderson Corps held a memorial service on July 30. Corps Officer Major William Cobb officiated.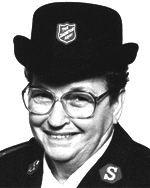 Captain Arrie B. Purdell was promoted to Glory Aug. 7, from Ponce de Leon, Fla.
Arrie Ferrell was born March 25, 1933, in Gadsden County, Fla.
As a single mother of three daughters, she worked as a carhop in San Diego to provide for them. In 1958 she met John Purdell, a new manager trainee at the restaurant. The couple wed in 1960.
Arrie Purdell accepted Christ during an A. Wetherall Johnson Bible Study Fellowship in October 1967. The following month four of her now seven children made commitments to Christ, and in early December, John Purdell did as well. The family then joined the Community Bible Church in Glendale, Calif.
Twelve years later, in 1979, a neighbor invited the Purdells to watch a children's skit at The Salvation Army Burbank (Calif.) Corps. They instantly fell in love with the Army.
The couple entered full time service with The Salvation Army in November 1979. After two months of training at the Pasadena Tabernacle (Calif.) Corps, they served as auxiliary captains at the El Centro (Calif.) Corps. In June 1981, they moved to the San Fernando Valley Corps, remaining there for nine years. They transferred to the Eastern Territory's Northeast Ohio Division in 1990 where John served as divisional evangelist and Arrie as senior services secretary. Two years later they relocated to the Dover/New Philadelphia Corps.
In 1995 the Purdells transferred back to the Santa Maria (Calif.) Corps in the Western Territory, serving there until their retirement in 1997.
Because the Purdells did not live near a Salvation Army corps after retirement in Ponce de Leon, a local community church in their town held a service on Aug. 7. A family memorial is planned for October.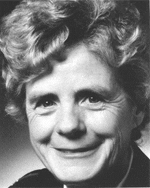 Major Lois Annette Brooks, 82, was promoted to Glory Aug. 6, from Yakima, Wash.
Lois Annette Williams was born March 23, 1929, in Minneapolis, Minn., to John and Annette Williams. After graduating from Minnehaha Academy in Minneapolis, she moved to California and became a soldier at The Salvation Army San Diego Temple Corps.
She married Leslie Brooks, whom she met at the corps, in 1959. The couple had three children: Rick, Kathy and Mark.
After serving as faithful soldiers in San Diego, the Brooks opened the Army's work in Escondido, Calif., as auxiliary captains. They served there for over nine years, during that time becoming full captains.
The Brooks served as active officers for 27 years plus three years in post-retirement. Their appointments were in California, Colorado, Washington, New Mexico, Idaho, Nevada and Oregon and included five Hispanic corps: Hollywood, Calif., where they opened the ministry; Los Angeles Red Shield; San Francisco Mission Corps; and Grandview and Yakima, Wash.
Although Brooks did not speak Spanish, she loved working in the Hispanic community. During Sunday meetings, children would sit with her and translate the service.
After retirement in 1993, the Brooks settled in Beaverton, Ore., later moving to Yakima, Wash., to be near family.
Lois Brooks is survived by her husband, Les; daughter, Major Kathy (Maynard) Sargent; son, Mark (Heather) Brooks; sister, Jane Casey; and numerous grandchildren and great-grandchildren.
The Yakima Corps held a celebration of life on Aug. 13. Major Maynard Sargent officiated.