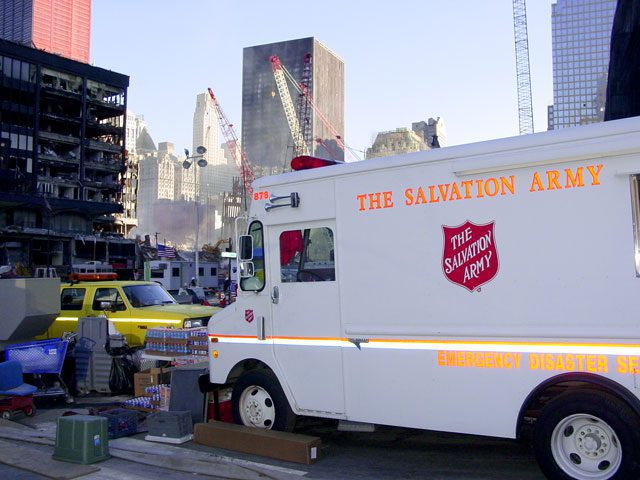 Called to action
Sept. 11 brought Giovanny Guerrero to The Salvation Army.
By Stephanie Jones – 
The Salvation Army's own Giovanny Guerrero is indeed one of New York's finest.
His journey with The Salvation Army is interwoven with a day honored by remembrance and service.
After passing Brooklyn Bridge station on Sept. 11, 2001, Guerrero heard on a train what many New Yorkers dread—an announcement.
"I was actually on the last train that got there and I remember the conductor saying, 'There's an emergency going on. The next stop will be the last stop.' And then he said, 'What used to be two, now is one,'" Guerrero said. "When I got there—actually we went through the tunnel to get to the exit to the street—one tower was already hit. I guess the conductor considered it done. But in the middle of chaos, people were running toward uptown. I did the opposite."
Guerrero used to work at a chiropractic office near the World Trade Center. In fact, he had an interview the next day with Cantor Fitzgerald, where his cousin worked. She was already at work that day and Guerrero went to find her. Then the second plane hit.
"It was total chaos," Guerrero said. "So no one could go in but there was a lot of action going out. Only fire trucks were [coming] in. Some of The Salvation Army trucks were already lining up on the Westside Highway. I was just helping out with whoever needed me to deal with the other [people]. I worked there for that afternoon until about four or five in the morning assisting firefighters, moving debris, and also working with other nurses and doctors that came on site to clean the eyes of some the rescue workers."
For three weeks, Guerrero gave out water, sandwiches and rides using Salvation Army vans to aid workers, rescue personnel, and other volunteers. As a familiar face who knew the area and was present at ground zero, he often returned to volunteer. But after missing a van to Far Rockaway, he was asked to coordinate a Thanksgiving dinner event instead. And the position paid.
"So, I started working for The Salvation Army," Guerrero said. "I started working toward the Thanksgiving event. So, the social services coordinator said, 'Listen. We're going to have a site and the site needs to be BMCC [Borough of Manhattan Community College], which is in the lower side of Manhattan, right across from the place where I was working. So I said, 'I know the area.' It was like going back to the same site where I was working."
The organization's significance at ground zero continued long after the streets were cleared. While coordinating 289 volunteers and food for 800 people, Guerrero got a call from a woman who pleaded with him to let her serve at the Thanksgiving event. She said it was the only place she felt comfortable. Despite maxed out attendance and having to serve meals outside because the venue closed early, Guerrero couldn't turn away someone who really wanted to be there. At the end of the night, her father spoke to him.
"He said, 'Thank you so much. What you did means the world to me.' And I said, 'How so?' And he goes, 'Well, that lady that came in to serve. She actually came late—I'm her father as you know—because she went to the Thanksgiving Day Parade to take her daughter. It was actually something that her husband and her used to do ever since the girl was born.' She was about 4 or 5 years old. And she said she wanted to come here because this was the only place she felt comfortable to be because it was the closest place to where her husband died.'
"Right in that moment," Guerrero said, "I realized that that if I would had said no to that last call, maybe I would have stolen someone's joy."
Moved by how the Army impacted lives, Guerrero continued to work in the social services department at The Salvation Army until about 2005 when he became a city caseworker in domestic violence situations. But he was called back to the organization when a friend and captain at The Salvation Army passed away. A few days before he died, he asked Guerrero to give a sermon. Four months later, Guerrero became assistant to the pastor and is now an auxiliary captain in The Salvation Army.
Even though the city has constantly changed since he moved there in 70s, Guerrero holds onto his faith and takes life one day at a time.
"When you become part of history yourself and you see the transition going on, it's kind of hard for you to formulate an idea or an opinion because time changes," he said. "But I do tell you this, though. Some of us have forgotten what went on back then and sometimes are a little bit tested about the needs and the pain and the scars that people still have and are there from Sept. 11.
"But other people that went through it, like myself, we pay attention to what goes on," Guerrero said. "Of course, with everything happening in the city and everything happening in the world, the only thing we can actually do is just try to make the best that we can with what we have and try to resolve each issue as it comes."
Guerrero currently serves at Queens Temple in Jackson Heights, where services include clothing distribution and a food pantry.
"People should know that The Salvation Army isn't just there to be there," Guerrero said. "I see The Salvation Army as a blessing, a bridge of communication, and an institution that is actually there when people really need it. People can actually trust The Salvation Army and it's full of people who are willing to work and willing to serve. Mind you, that when you come and volunteer at The Salvation Army, you don't get anything in return.
"But the experiences that you have, it helps us to carry on," he said. "Like myself, I started doing one thing and look where I am now. If you ask me, most of my experiences, most of my connections with the people I have met are because of The Salvation Army, because they served on Sept. 11, and because I allowed myself to just forget about me and start serving others without asking anything in return. I think that people should be aware when they assist The Salvation Army, they are not only serving or helping for a moment but they're helping for the future as well."