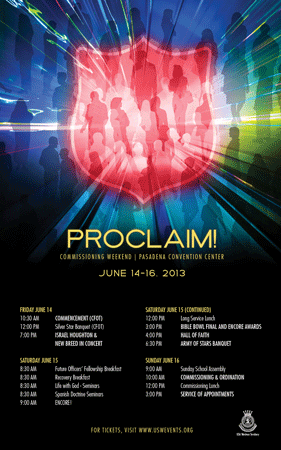 Proclaim! Commissioning weekend 2013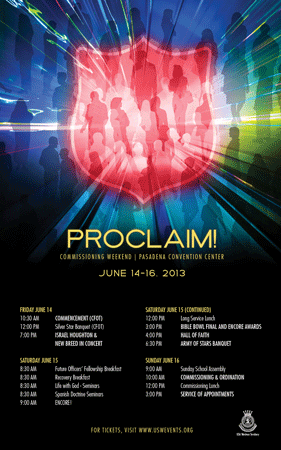 This year's events will be at the Pasadena Convention Center.
By Martin Hunt
The commissioning, ordination and appointments of the Proclaimers of the Resurrection Session of cadets will be the apex of a God-honoring weekend of worship and praise. The Commissioning weekend, an annual pilgrimage for Salvationists, is slated for June 14-16 at the Pasadena (Calif.) Convention Center (location of last year's Gathering Congress).
Following the traditional commencement ceremony, held at the College for Officer Training at Crestmont on June 14, the Western Territory will present a concert by Grammy Award winning artist Israel Houghton, one of the nation's top praise and worship artists. Houghton's songs are well known within The Salvation Army,  and his music style and worship leadership are in demand across the country.
Several opportunities for learning, fellowship and celebration are available June 15, including a Recovery Celebration breakfast, Spiritual Life Development seminars ("A Life With God" or "Spanish Doctrine"), the annual "Encore" talent showcase with young artists and musicians from around the territory, and the final round of the Territorial Bible Bowl Competition.
That evening a "Hall of Faith" will feature an interactive showcase of stories of transformation where delegates can mingle, have refreshments, and hear the impact of God on the lives of people.
Rather than the traditional concert or evening program, June 15 will conclude with the "Army Of Stars" Banquet. This dinner and program is designed with a Hollywood feel—to celebrate and honor God's soldiers. Soldiers from every division will receive acknowledgement for their faithfulness and impact for the kingdom.
June 16 will begin with a Sunday School assembly, followed by the two Commissioning meetings. Lunch will be available for a small fee.
Childcare, provided again this year by Corporate Kids, is available for each of the main events and during the day on Saturday for those involved in seminars.
Tickets are required, and the Friday night and Sunday meetings will be held in the Pasadena Civic Auditorium with general seating.
Hotel accommodations are available via the registration website at the Pasadena Hilton and Pasadena Sheraton Hotels.
Registration for events, childcare and hotels is available at uswevents.org.
Plan to join the celebration as the Western Territory comes together to "Proclaim!" the good news of what God has done in our lives and in our Army.