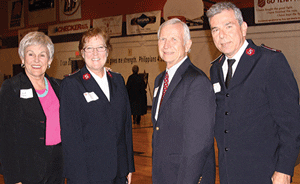 Posillicos return to the Southwest
By Melissa Axman
The Southwest Division celebrated the installation of Divisional Leaders Lt. Colonels Joe and Shawn Posillico on April 1, when 120 people gathered, including Commissioners James and Carolyn Knaggs, territorial leaders, at the Phoenix Citadel Corps to formally welcome them to the division. The divisional band, Valley Brass and the Phoenix Citadel Songsters provided music.
Prior to this appointment, the Posillicos served as divisional commander and divisional director of women's ministries for just under seven years in the Golden State Division, headquartered in San Francisco. They are no strangers to the Southwest, however; both have held previous appointments in Arizona, including Globe, Prescott, Mesa, Tucson, and Phoenix.
The Posillicos are excited to be back in the Southwest Division. "We started our officer careers in the Southwest Division and were grounded here," said Lt. Colonel Joe Posillico.
The City of Phoenix Administration Advisory Board hosted a welcome event for the Posillicos on March 21, at the future site of the Ray and Joan Kroc South Mountain Corps Community Center in Phoenix. More than 100 community leaders and Salvation Army board members attended. Tours of the Kroc construction site, scheduled to open in spring 2012, were provided.