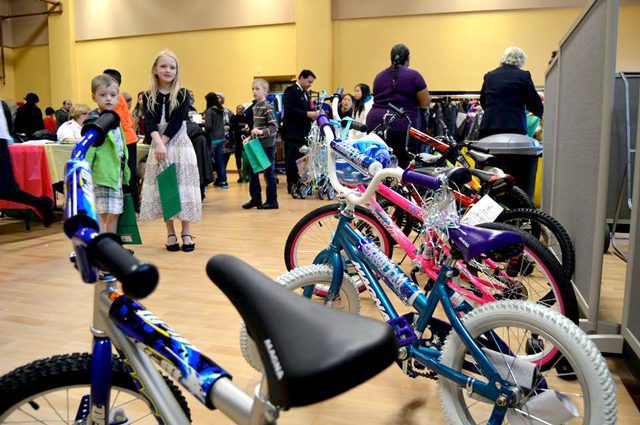 Portland Tabernacle Corps 'repacks backpacks'
Event aims to provide practical help with mission in mind
Even when planning an ordinary activity like distributing school supplies, The Salvation Army Portland (Ore.) Tabernacle Corps kept its vision firmly in mind.
"We exist to win the world for Christ," Corps Officer Major Ken Perine said, "and everything we do is for that purpose. Our ministry team is continually working together to follow that vision."
When corps leaders—Perine and his wife, Major Jenni Perine, Captain Laura Fenton and Lts. Kalani and Jennie Onitsuka-Adams—held a brainstorming session to come up with a way to distribute the extra school supplies the corps had accumulated, they sought to further that mission.
"The Lord led us to have a February school supply resource fair that we called 'Repack the Backpack,'" Perine said.
In just two weeks, the ministry team assembled fliers, mailed them to social service clients, passed them out at trailer parks, and distributed them in nearby neighborhoods.
During the Feb. 8 event, adult volunteers handed out supplies to the parents while children from corps programs acted as ambassadors for troops, singing company, junior band, vacation Bible school, summer camps, Sunday school and Young People's League.
Event attendees also had an opportunity to win one of six bicycles and to choose a winter jacket.
"The Lord blessed us far greater than anyone had expected," Perine said.
Approximately 200 people attended the event and about 30 families expressed interest in corps programs.
"We even had one parent call us first thing on Monday morning to ask questions and get more details," Jennie Onitsuka-Adams said. "She left two messages before we even got in. We are so excited about the success of this event and the possible growth of our corps. May God be praised."
The corps plans to make Repack the Backpack an annual event.