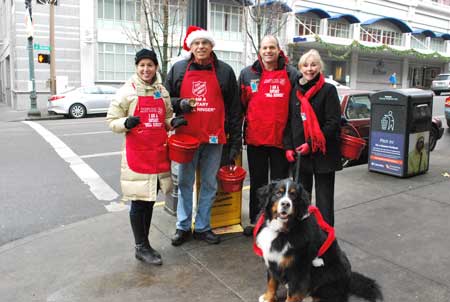 Portland Rotary Club raises over $22K in 90 minutes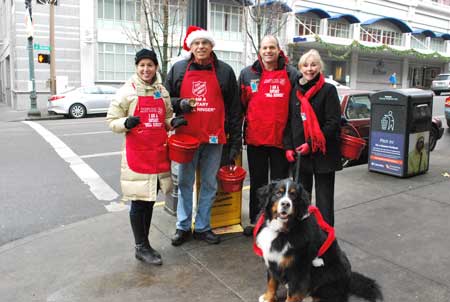 By Teresa Steinmetz
A frenzy of red-aproned people, kettles and dogs took over downtown Portland, Ore., during lunchtime on Dec. 13, for the 78th annual Rotary Bell Ringing Day to benefit The Salvation Army. This year, 105 bell ringers and 5 dogs raised $22,745 in just 90 minutes. Also volunteering were 21 students from the Interact Club of Sherwood High School, plus four of their youth exchange students.
"We have seen tremendous support from the Portland community throughout the years, and today we are especially grateful for the wonderful partnership that has developed between The Salvation Army and the Rotary Club of Portland," said Captain Ray Dihle, corps officer at The Salvation Army Portland Tabernacle. "With their support year after year and their heart for helping us do the most good, we are able to help even more people who really need help at Christmas and throughout the year."
The efforts of these volunteers will help people locally. All money donated to The Salvation Army kettles goes toward food boxes, after-school programs, shelters and other essential services to people in need in the community.