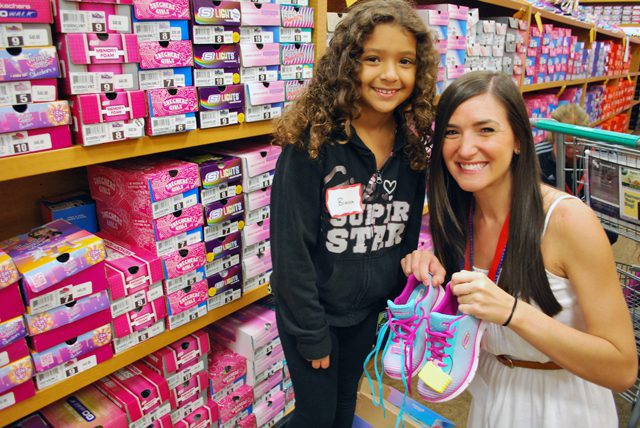 Portland kids prep for school
The Salvation Army Echelon PDX Chapter raises money for school supplies.
The Salvation Army Echelon PDX Chapter in Portland, Ore., engaged family, friends and social networks to raise over $2,000 to take 20 children shopping for back-to-school items.
Early one morning, 13 volunteers arrived at the Fred Meyer store in Beaverton, Ore. to shop alongside the students. Once the volunteers and kids paired up, most headed to the shoe section. After selecting new shoes, they navigated the school supply section to pick out the essentials and some fun supplies.
"The excitement and smiling faces will definitely never be forgotten," said Traci Geist, one of the founding members of the Echelon PDX Chapter. "The two girls [I helped] were so polite, kind and so excited. The biggest decision was which sparkly pink or purple colored shoe to go with."
Since there were more kids than volunteers, some volunteers, including Geist, took a second child shopping.
"Each child received $75 worth of supplies, but more than that they received something you can't put a price on—the tools that equip them success in the classroom and in life," said Teresa Steinmetz, director of communications and marketing for The Salvation Army Portland Metro.
The Salvation Army Echelon PDX Chapter is a group of young professionals working to mobilize the next generation. Taking an active part in the education and future of underprivileged children is the best way to prepare the next generation for success.