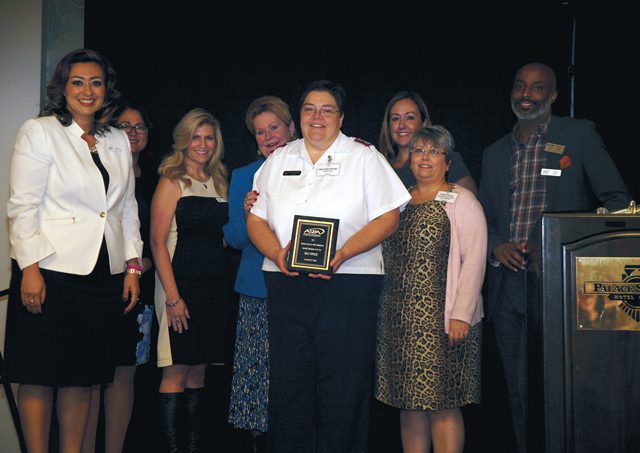 Pontsler awarded
The Salvation Army Clark County Coordinator receives Non-Profit Administrator of the Year award
By Becky Watson – 
Today, at the American Society for Public Administration (ASPA) conference, The Salvation Army's Major Kelly Pontsler, Clark County coordinator, received the Non-Profit Administrator of the Year award. The award was presented during the Professional Development Conference at the Palace Station Hotel & Casino by the ASPA Southern Nevada Chapter's Board of Directors.
 The ASPA is the prominent professional association for public administration, dedicated to advancing art, science, teaching and the practice of public and non-profit administration, and recognized Pontsler's accomplishments during her short tenure to date serving Southern Nevada.
"This is a well-deserved award for Major Kelly as she has been a blessing to The Salvation Army and the non-profit community," said Joseph Mugan, local advisory board president. "With her guidance, she has greatly enhanced The Salvation Army's service and dedication to those most in need with its many programs."
In the ASPA's decision to honor Pontsler for her accomplishments, the points made about her work and mission in the community include: balancing of the budget, overseeing a $2 million renovation at the West Owens site of social services, which includes veterans and homeless services, organizing a homeless outdoor media campaign, organizing public service announcements directing the generosity of the public at large, organizing annual events, such as the Red Kettle Kick Off at UNLV and the Annual Benefit Banquet luncheon, and being actively engaged in community non-profit CEO leadership.
Pontsler assumed her position in Southern Nevada in 2014 and oversees The Salvation Army locations in Las Vegas, Henderson, Mesquite and Pahrump.