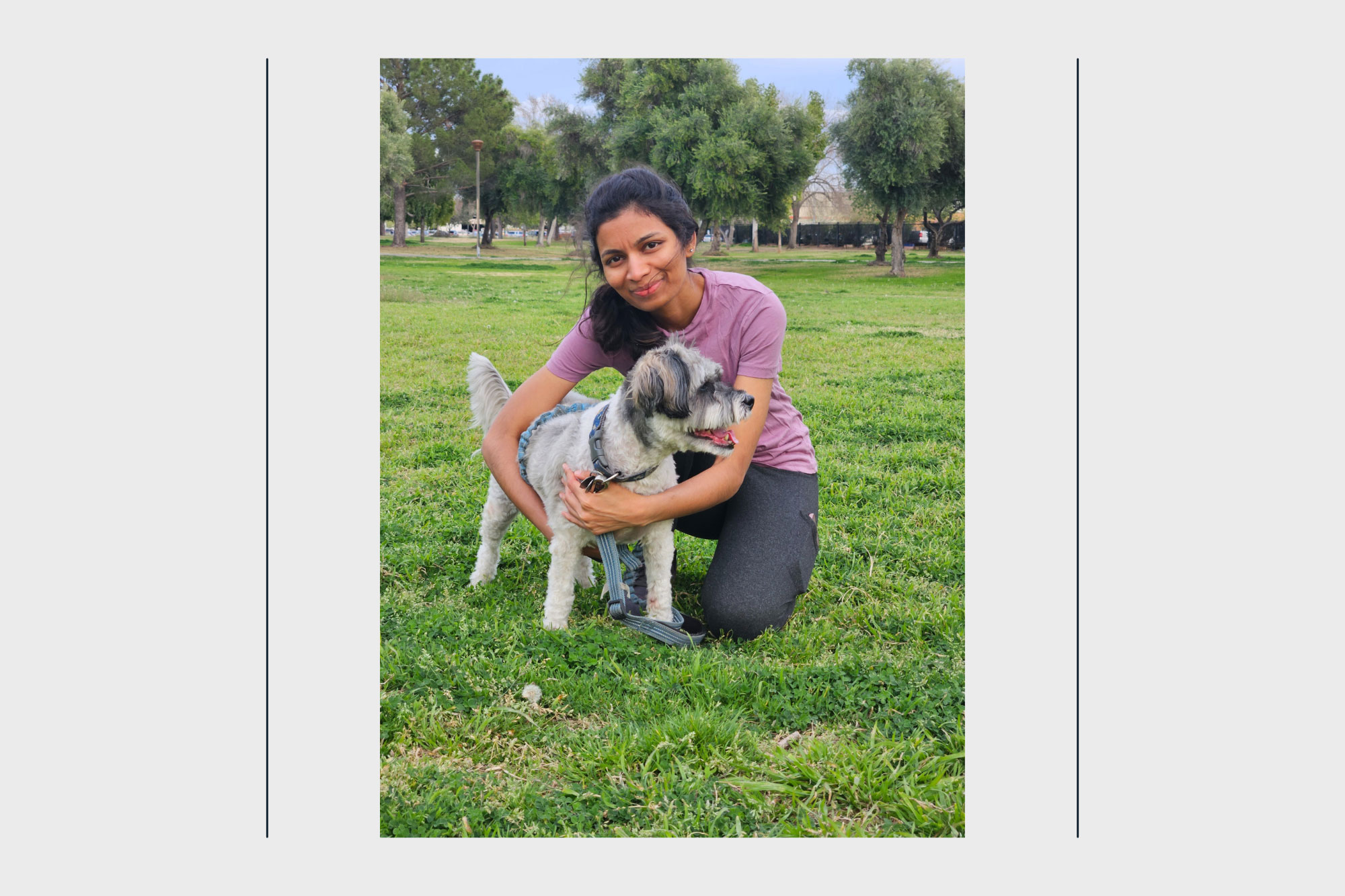 Phoenix woman finds emergency help through The Salvation Army amid immigration sting
Anusha Ratikrindi left India to pursue her dream of getting an education in the U.S., but found herself caught in an elaborate scheme that nearly cost her everything.
Anusha Ratikrindi awoke around 5:30 a.m. to the sounds of banging on her front door.
"Anusha Ratikrindi, open up!"
She jumped out of bed, cautiously approached the door, and cracked it open. Standing on the porch of her Phoenix apartment in the dark of the early morning were three federal agents with the U.S. Immigration and Customs Enforcement and the Department of Homeland Security (DHS). They came inside and started searching her residence. Then, they told her, "You need to come with us."
Ratikrindi figured this must have had something to do with her work authorization, which had just been approved one week earlier. She had no reason to believe otherwise, so she willingly went along with the authorities.
What Ratikrindi didn't know then: this was a raid. She was being arrested.
Long before Ratikrindi ever left her home country of India, she dreamt of coming to the U.S. to get an education.
"Since I was young it was always my dream to come to the U.S. and study," she said. "But I came from a farmer's background. So some people laughed at me, like 'Your father is a farmer. You can't afford to go to the U.S.' Even members of my own family would say that."
Undeterred, Ratikrindi worked tirelessly to make that dream a reality. Her father helped her secure the money to make the move. And after Ratikrindi got her bachelor's degree, she finally left India and touched down in sunny California.
She started attending Cal State University, East Bay in 2014. But six months later, she became homesick and decided to fly home to India.
"I felt so lonely so I left," she said. "When I got back to India, my father said, 'You've already paid [the tuition].' He pushed me to come back and study."
Her second go-round in the states was different. She acclimated to her new life and transferred to Northwestern Polytechnic University, where she completed a master's degree in 2016.
However, after graduation, she needed to extend her student visa status while she looked for a job. One of her friends recommended the University of Farmington in Michigan, an online university. So she applied and got accepted.
She filled out her paperwork, and logged into her college portal. That's when she noticed something strange.
"When I logged into my college portal, there were no classes available to enroll in," she said.
When she called the university, they told her all of the classes were full, but if she stopped paying her tuition, she knew she could lose her student visa status.
How The Salvation Army Supports Disaster Survivors
No matter where disaster strikes, The Salvation Army is there, helping meet the needs of survivors of natural or man-made crisis through:
– Food services
– Social services, including clothing, shelter and medical services
– Emergency communications
– Donations management, encouraging cash donations as the best and most flexible way for the public to help
– Cleanup and recovery for the long-term
– Training to prepare for emergency events
So she paid up.
She continued to do so until Jan. 29, 2019. That was the day three federal agents showed up at her apartment before the crack of dawn to arrest her.
The charges: student visa fraud.
The federal agents explained to Ratikrindi that the University of Farmington, the institution to which she'd paid roughly $15,000 in tuition, was in fact, a fake university.
Ratikrindi was baffled. The university had a real address. She'd received a real admissions letter. She'd paid real tuition. She'd even received email correspondence from a real employee at the university.
Or so she thought.
The crisp logo, the official website boasting a 10:1 student-to-faculty ratio, the endorsement from the Accrediting Commission of Career Schools and Colleges (an actual accrediting body), all those emails she received—it was all made up. It was all part of a yearslong ruse set up in 2015 by ICE's Homeland Security Investigations (HSI) to expose student visa fraud.
The University of Farmington was little more than an office space in a suburban Michigan business park with a robust online presence managed by undercover federal agents.
In all, ICE arrested some 250 students, including Ratikrindi, for violating the terms of their visas, which mandated they be enrolled full-time at a federally accredited educational institution while they complete their studies.
The so-called "Operation Paper Chase" became public when an indictment was unsealed on Jan. 30, 2019. As it turned out, the University of Farmington was a counterfeit university that appeared so real, most of its students couldn't tell the difference. After all, the university was listed as a legitimate school on the Department of Homeland Security website. To many of the students, the University of Farmington represented their best chance at extending their F-1 visas, which would allow them to remain in the U.S. legally while they completed their studies.
Luckily, Ratikrindi had just been approved for her work authorization one week earlier, so she didn't actually need her F-1 visa anymore. After she arrived at the detention center in downtown Phoenix, she had her fingerprints taken and later that day, she was released—albeit with an ankle monitor and instructions to stay within a 75-mile radius.
When Ratikrindi told her employer about the situation and explained her side of the story, they fired her without notice. She knew in her heart that she'd done nothing wrong. Still, she feared these charges would somehow get her deported.
In April 2019, her case was dismissed because she had a legal work authorization status, but the court reversed course on that decision 10 days later due to her involvement with a fraudulent institution. Her work authorization subsequently expired.
"I'd never been in this kind of situation in my entire life," she said. "I didn't know where to turn."
This wasn't exactly the "American Dream" Ratikrindi had in mind all those years in India. After contacting several attorneys, she finally found one who was willing to take her case. Meanwhile, she was offered a job back home in India.
"I knew that I did nothing wrong," she said. "So I chose not to leave the country. And I chose to fight here."
The cost of fighting was starting to add up—literally. Between the $15,000 she lost in "tuition" and all of the attorney fees, she was running out of money.
In July 2022, she saw a television ad for Arizona Senator Mark Kelly, so she contacted his office to ask for help. His office connected her to The Salvation Army in Phoenix.
I just kept faith. I never lost hope that it would be OK.Anusha Ratikrindi
"I was blown away by Anusha's story. I was shocked, saddened—I was angry for her," said Michele Kirkpatrick, The Salvation Army's Emergency Assistance Program and Homeless Outreach Manager in Phoenix. "After Mark Kelly's office got in touch with us, Anusha and I were able to correspond via email, and we were able to help her. We provided her with rent and utility assistance for two months in 2022."
Ratikrindi made it clear that she didn't expect anything for free.
"I told The Salvation Army, 'If you help me, once I get a job, I'll pay you back,'" she said. "They said that wasn't necessary."
The timing of the rental assistance was pivotal. By October 2022, her work authorization was approved and she got a full-time job at American Express.
"After I got the job, I contacted The Salvation Army to say thank you," she said. "I went to the office and met the staff, and thanked everybody who helped me during that period."
The charges against Ratikrindi were eventually dropped. She, like the hundreds of other students caught in the ICE sting, never was able to recover the money lost to the Univeristy of Farmington scam. Several civil rights groups and attorneys are working to reach a settlement for Farmington students, similar to the one reached by students of the University of Northern New Jersey, another fake university set up by ICE. As of now, no agreement has been reached.
But Ratikrindi does have a stable income and housing and she is making inroads, with her attorney's help, toward permanent citizenship.
"During those four years, sometimes I used to just cry and pray and ask God, 'what did I do wrong?' I was so stressed. I lost so much weight," she said. "But I knew I did nothing wrong. The only thing I did wrong was, I didn't ask questions. I didn't have a lot of exposure to this country. In India, you're brought up not to ask questions, but I learned this lesson.
"I just kept faith," she said. "I never lost hope that it would be OK."
---
Do Good: