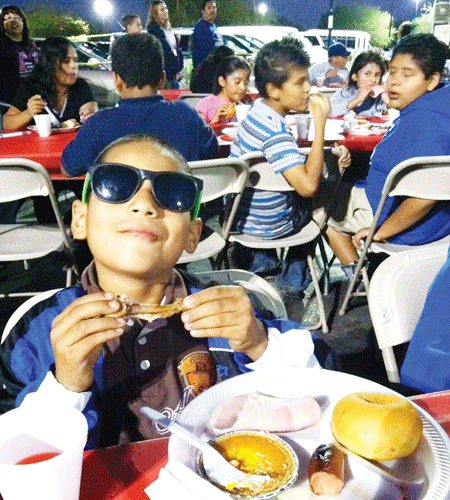 Phoenix feast in Safeway parking lot
Phoenix South Mountain Corps takes Thanksgiving into the community.
The Phoenix South Mountain Corps faced a challenge this Thanksgiving—where would it hold its annual holiday dinner?
The neighborhood Safeway market saved the day, providing its parking lot for the occasion.
The Thanksgiving dinner—a tradition for 11 years—has always been indoors. This year, however, the corps did not have an appropriate facility, due to the ongoing construction of the new Kroc Center, so the dinner moved outside.
"For the first time we took this dinner into our community instead of having our community come to us to get it," said Corps Officer Major Guy Hawk.
Under the direction of advisory board member, community leader and owner of Spee-D-Tees BBQ, Ted McClure, Phoenix South Mountain served a Thanksgiving barbecue to over 1,000 people in the parking lot of a Safeway store in the heart of South Phoenix.
About 25 Rosa Linda Elementary School students helped with setup. Arizona State University (ASU) students interacted with the kids—face painting, coloring and games. RJ Kroc, the crocodile mascot for the Kroc Center, took pictures. A group of classic car owners displayed their vehicles. Corps members mingled with the crowd, while Kroc staff handed out information about the new center. Representatives from CVS/Caremark seated and served guests while local police officers provided security.
"This was a pure community event from beginning to end. It was such a great success because of the strong volunteer base which has developed through the years," said Captain Chris Mitchell, associate corps officer. "It was a great expression of Salvationism in the way that it brought people together to serve and share with one another."