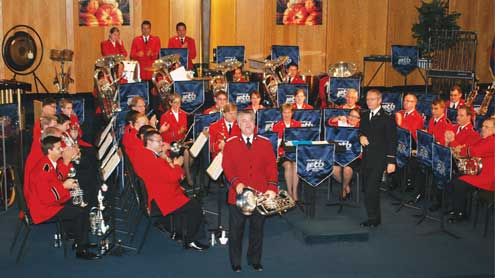 Pasadena Tabernacle Band celebrates 120 years
Annual Thanksgiving Festival Weekend brings international guests.
By Robert Docter
Territorial Commander Commissioner James Knaggs, along with distinguished international guests, aided the Pasadena Tabernacle Band in its celebration of 120 years of service at the Nov. 9 Thanksgiving festival of music, which was also broadcast via the Army's Online Corps.
Dr. Stephen Cobb, international staff bandmaster, and euphonium soloist Derick Kane, deputy international staff bandmaster, joined Knaggs and Tabernacle Bandmaster William Flinn in communicating the band's festival theme of relevant inclusivity in today's world.
The Tab's 70-voice songster choir, led by Martin Hunt, participated throughout the festival weekend.
Former Tab bandmasters Ron Smart, Bill Gordon, Ivor Bosanko and Lambert Bittinger were on hand for the weekend, and praised both the band's performance and vitality with so many young instrumentalists.
Both Cobb and Kane worked with the band for five consecutive nights prior to the concert. Cobb led roughly 90 percent of the band's presentation at Flinn's request.
The music, selected by Flinn, sought to communicate the evening's theme. It began with Steven Ponsford's "Servants of God" and after prayer led by Corps Officer Major Darren Norton, moved into James Curnow's "Never Give Up." As a tribute to the West, Kane played Eric Ball's euphonium solo "Home on the Range."
Two of the former Tabernacle bandmasters wrote a special piece for the evening. Gordon conducted the band in his composition, "Tabernacle 120 Celebration," which climaxed with the theme "Ever is the War Cry—VICTORY!"
Kane then presented Paul Lovatt-Cooper's "Donegal Bay."
Kevin Larsson's rendition of his father's music, "They Shall Come from the East, They Shall Come from the West" closed out part one. His piece, written for the celebration, "On We March," opened the second part of the program.
Euphonium soloist Kane performed Stephen Bulla's "Scottish Folk Variants." The Tabernacle Songsters then presented two numbers: a praise song by the Wesleys arranged by Bradley Knight titled "Psalm 24" and "Give Me Jesus," arranged by Jay Rouse.
Prior to Commissioner Knaggs' devotional, the band featured the trombone section with Olaf Ritman's "When I Survey."
The band's final note of praise was Peter Graham's "Seize the Day."
Lt. Colonel Don McDougald ended the evening with the benediction.