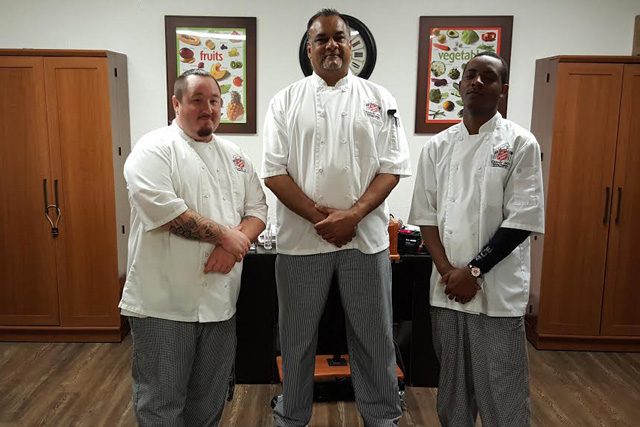 Partnership serves up opportunity for Sacramento culinary students
Del Oro Division continues its focus on workforce development for clients.
By Vivian Lopez –
The workforce development movement continues to grow in The Salvation Army Del Oro Division, as its Culinary Arts Training Program in Sacramento, California, established a meat-cutting training partnership with local Raley's Supermarkets.
Previously, the division launched and promoted the expansion of its construction training program as well as its staple culinary arts training programs.
"The workforce development program outreaches are working extremely well. We're scaling it up and making the program more robust," said Major Martin Ross, who in addition to serving as the Sacramento Social Services Secretary, is taking on a new role in enterprise development for the division.
Ross said Raley's representatives were intrigued by the meat-cutting posters up in the Sacramento Culinary Arts Training Program classroom, laying the groundwork for the partnership.
"Seeing this program, it just connected for us at Raley's that there must be a way for us to provide some opportunity," said Julie Teel, a board member of both the Raley's Board of Directors and The Salvation Army National Advisory Board. "We hope the partnership provides students some insight into their craft that gives them guidance to pursue either the meat-cutting career or something else in the culinary area."
In response, the culinary arts program implemented an additional week of meat-cutting training, focused on primal cuts, to its existing curriculum.  
"Our folks are trained heavily in knife skills, and they know how to handle that," Ross said.
Through the partnership, Raley's brought in hiring managers who conducted job interviews with the program's students, selecting three of them to be hired by the grocery store chain for a pre-apprenticeship.
"It's an awesome career-elevating choice that the students have a chance for," said Tony Coz, Salvation Army culinary program instructor and food services manager. "Hopefully it's going to expand. They picked some quality students."
The students started working at Raley's in different food service areas part-time, as they continued their culinary studies with The Salvation Army. After a certain amount of work hours, they would be eligible for a full-time position.
"It provides motivation to the students to have employment before they graduate," Ross said.
Raley's also awarded The Salvation Army with an $8,000 grant to cover the hired students' culinary training, as it costs The Salvation Army approximately $2,000-3,000 per student to go through the class. Ross said Raley's has already expressed interest in continuing the partnership for future class sessions.
The selected students are grateful for the opportunity.
"It's exciting. I'm liking what I'm doing," said Umesh Singh, who took on a different culinary position as a Raley's baker. "I'm learning new things that will help me in my future."
Steve Jarrell, who is working in the meat department, sees Raley's as a place he would like to work for the rest of his life.
"I love it. I wake up excited to go to work every day," Jarrell said. "I'm hoping for advancement. I'm really excited about butchery and I hope to be a butcher some day."
There is a lot Ross wants the students to get out of this partnership.
"We hope they get a career. Secondly, for them to know that what they received, Jesus helped us do it," Ross said. "We also hope they can not only have a career and jobs, but that they can be some of the best ambassadors to go back and give hope through the neighborhood and the graduates from our various programs to say, 'Hey there's a better way.'"
Ross is excited for what the workforce development focus will bring for The Salvation Army, and encourages more companies and organizations to join in their efforts to get clients back to work.
"My hope is that this really becomes a best practice in the Del Oro Division, and that The Salvation Army has the opportunity to dive more deeply into this concept and branch out into many skill areas… so it's transferable to other divisions in the Western Territory," Ross said. "We're making a difference."