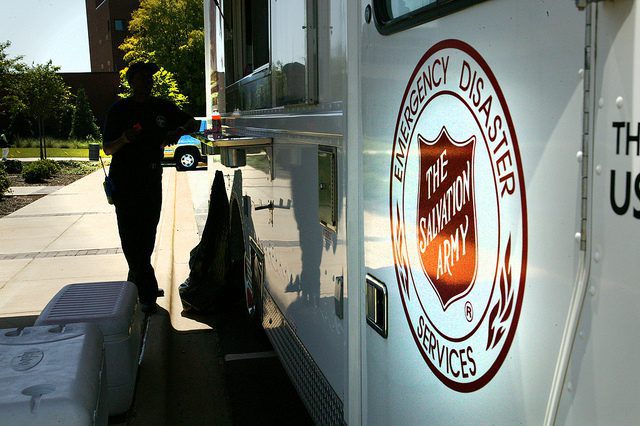 As California fires burn, Salvation Army is there to help
As fires burn throughout California, The Salvation Army has deployed teams to help those affected by the flames.
In Redding, California, the Carr Fire has burned nearly 45,000 acres as of July 27, according to Cal Fire.
The Salvation Army has deployed teams from the Auburn Corps and Roseville Corps to the Carr Fire evacuation center at Shasta College to meet basic needs and provide spiritual care.
Personnel from The Salvation Army Oroville Corps and Redding Corps are currently at that site and served breakfast Friday morning.
Thursday, The Salvation Army started a meal service at Shasta High School before the evacuation center relocated to Shasta College.
Several Salvation Army teams are on standby if additional sites are in need of assistance.
In Riverside County, the California South Division is responding to the Cranston Fire by supporting the county-managed evacuation centers.
The Cranston Fire is now 11,500 acres and is three percent contained as of July 27, according to Cal Fire.
If you would like to donate to efforts helping those affected by the Cranston and Carr fires, visit www.gosalarmy.org.