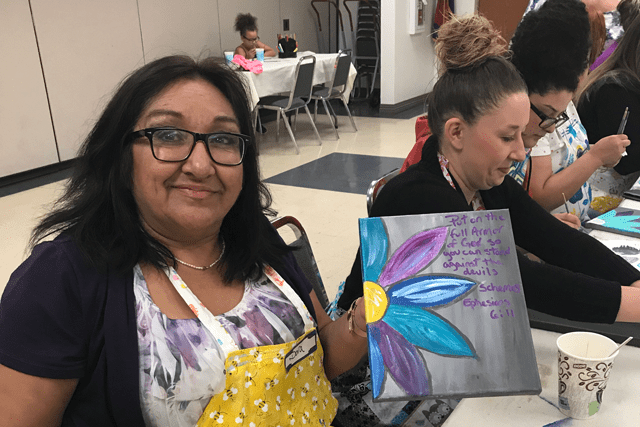 'Paint and Praise' unites women in Richland, Washington
Outreach event kicks off women's ministry group.
Women of all ages got together at The Salvation Army in Richland, Washington, to "paint and praise," creating works of art inspired by favorite Bible verses.
Modeled after popular "paint and sip" events—sans the "sip"—the outreach event launched the corps' new women's fellowship group, T.N.T.—Thursday Nights Together.
"I love getting out and meeting new people and doing things that have meaning," said Judy, one of the participants. "Putting a Scripture verse on my painting really brought home to me that God is the one we praise."
When Richland Corps Officer Major Toni Halstad first arrived in the city, she wasn't sure how to start building a women's ministry group, so she sent out a short survey. Several respondents suggested painting parties, so Halstad did some research.
"I saw that all of them involved alcohol and/or were very expensive—upward of $25–40 per person," she said.
Halstad decided to create an event that was alcohol-free, affordable and Christ-centered, and the details quickly began falling into place. She met art instructor Brigette Phillips, of Mindful Art, at a Christian business women's group. Phillips uses art as therapy to help people deal with trauma and stress; she also leads retreats, church functions and corporate events.
"When I told her about my vision for the outreach event, she offered to come and teach the class for only $5 a person," Halstad said.
Because this was an outreach event, Halstad didn't charge attendees anything, and even offered to provide child care. She advertised on Craigslist, through word-of-mouth and via invitations to women who had completed the survey. She also created a Facebook event page and posted it to every local women's Facebook group in the area. Phillips helped promote it, too.
In total, 20 women showed up for Paint and Praise. After introductions and prayer, the painting began. Phillips invited participants to use their favorite Bible verse, or the example she used: "Be still, and know that I am God" (Ps. 46:10 NIV). To Halstad's surprise, almost every woman wrote a Scripture passage on their picture.
"I really enjoyed watching the women get to know each other while they were painting and their openness with one another," she said. "Everyone's pictures turned out great—even mine!"
Phillips described it as an "amazing event."
"You brought together women of different religious beliefs, different backgrounds; yet all had the same issues of negative self-talk and low self-esteem and you gave them the chance to learn about faith and believing in themselves," Phillips said.  
Like many in attendance, Lacey expressed gratitude for the opportunity.
"I love that I can do this with other Christian women, without alcohol and have fun at little to no cost," she said. "I appreciate the fellowship and interaction."
After the painting, Halstad gave a devotional message and spoke about the corps' programs. The women departed with brochures about invitations to future T.N.T. and Home League meetings.
"I loved putting Scripture on my painting," said Erika, another participant. "I put I am fearfully and wonderfully made on mine and I am going to hang this up in my apartment, where I'll see it every day."