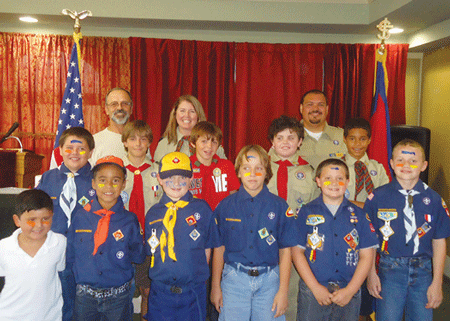 Pahrump Corps sponsors Pack 413
The Salvation Army in Pahrump partners with the Boy Scouts of America.
This summer the Pahrump (Nev.) Corps celebrated a crossover ceremony of its newly chartered Cub Scout pack.
Corps Officer Captain Mark King, inspired by the desire to provide a well-rounded, quality scouting program for boys in the community, began a partnership between The Salvation Army and the Boy Scouts of America's Las Vegas Council by requesting to sponsor Pack 413.
Referring to Phil. 4:13, King said, "We are going to do all things through Christ! We are a church-sponsored pack and we will make sure all of the families who join our pack know that we teach, preach and serve Jesus Christ."
Pack 413 started with five boys and at the time of the ceremony had grown to 13, three of whom crossed over to start a newly chartered Boy Scout troop. Four boys received an Arrow of Light Award, the highest award presented in the Cub Scouting program. One young man earned a Tiger rank, another a Wolf rank, and two others the rank of Bear. Five boys earned rank increases earlier in the program year, for a total of 100 percent pack rank advancement in 2012.