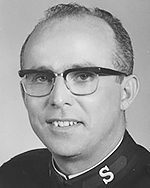 Captain Leonard William Johnson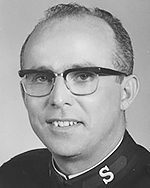 Captain Leonard William Johnson, 87, of John Day, Ore., was promoted to Glory March 31 from Blue Mountain Care Center in Prairie City, Ore.  
Johnson was born Jan. 16, 1927, in Bismarck, N.D.
During World War II, he served in the U.S. Navy as a radio operator aboard the USS Nashville in the South China Sea.
He met his future wife, Naomi Watkins, at the Asotin (Wash.) County Fair. They wed in 1944 and raised three children, Margaret, Sharon and Bill.
For 15 years, Johnson worked as an accountant for the Camas Prairie Railroad in Lewiston, Idaho.
The Johnsons, who were soldiers of The Salvation Army Lewiston Corps, entered the School for Officer Training in San Francisco and were commissioned with the Soldiers of Christ Session in 1962.
They were first appointed as corps officers in Nampa, Idaho, where they served until 1967. They next served as corps officers in Medford, Ore., staying until 1974 when they were assigned to lead the Salem, Ore., corps. Retirement came early for the Johnsons in 1976 due to health issues.
The Johnson settled in Central Point, Ore. Leonard was a gifted woodworker whose creations included a replica of the Camas Prairie Railroad and a collection of vintage cars. He and his wife also enjoyed gardening.
In 2003, the Johnsons moved to John Day to be close to their son and daughter-in-law.
Survivors include his children, Margaret (Mike) Sovel, Sharon (Bob) Alverts, and Bill (Sandy) Johnson; and grandchildren. His wife, Naomi, predeceased him.
Services were held April 4 at Merchant Funeral Home in Clarkston, Wash., with burial at the Asotin City Cemetery.