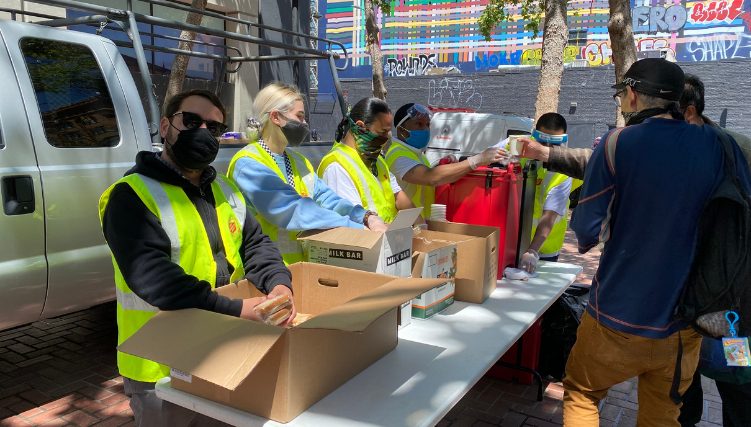 Outreach team works with BART to engage those who seek shelter at transit stations
The Salvation Army's Harbor Light Center has long been helping people experiencing homelessness in San Francisco, but they have now added a new program to their arsenal: the Street Homeless Outreach and Wellness team (SHOW). 
The SHOW team was developed in partnership with the San Francisco Bay Area Rapid Transit (BART) as a public health response to engage and stabilize the most vulnerable and at-risk individuals experiencing homelessness who seek shelter in BART stations.  
The SHOW team works every weekday in small crews to offer case management and humanitarian aid for homeless populations within or near the downtown areas of San Francisco's mass transportation centers and other regions where people experiencing homelessness reside. 
"Our work is really about relationship building and planting seeds to encourage people to come into a program to get back on solid footing in their lives," said Paul Urrutia, Program Manager for SHOW. "We use a motivational interviewing approach, which we hope sparks the idea in people's mind that maybe it's time to change. 
We want to break down those barriers to stability for our unhoused neighbors and provide practical support, information and referral, and in-depth assessment and case management for the most vulnerable and at-risk folks here in San Francisco." 
The SHOW team stabilizes individuals by addressing the numerous day-to-day and long-term problems related to homelessness. Within the severely limited resources available, SHOW refers interested individuals to Harbor Light Center's Recovery Wellness Services for alcohol and other drug (AOD) treatment and a transitional bed. The goal is to connect each person with programs, resources, and shelters in San Francisco to help guide individuals towards basic necessities, like housing, healthcare and food. 
"Many homeless people face the daily struggle of homelessness while dealing with damaging complications of substance abuse and mental health," said Major David Pierce, Executive Director of the Harbor Light Center. "The SHOW team works daily to help provide immediate services to as many homeless people as we can. One of the team's primary goals is to connect any eligible person to the Harbor Light Center's Recovery Wellness Team for residential treatment and supportive services. 
The Harbor Light Center has and continues to be a vital link for our City. While other agencies work to help the immediate physical need, the Harbor Light Center works to help save the whole person. Daily we work to serve others."
The program began in October 2020 and even though connections are made and conversations take place with people in and around the BART stations, most refuse to leave their current situations. But every once in a while, there is a success story. 
On a recent visit, the SHOW team, which consists of two staff people and a Salvation Army officer, traveled to BART's Powell Street Station in San Francisco to meet with a woman who they frequently see. The woman continued to decline referral to The Salvation Army's in-patient treatment program, but William, another person experiencing homelessness who the SHOW team had also been visiting with, stepped forward and said he was ready to go into recovery.  
The SHOW team brought him to 24th and Mission Station for a rapid COVID-19 test. Following his negative test, he was taken to the Harbor Light Center for a referral into the in-patient treatment program. On the way, the SHOW team learned that there wasn't immediately a bed available. 
Unfortunately, William became upset and screamed, "I did this all for nothing and I should just go home to use or kill myself!" The SHOW team chased him down the street and was able to calm him down. They mitigated a potential crisis situation, which would have probably resulted in William going back on the street. 
A bed did eventually become available later that afternoon and he was submitted to the Harbor Light Center to begin a new chapter of sobriety and stability in his life. As is often the case, William decided to go back to the streets after one day of being at Harbor Light. He was grateful for the chance to clean himself up and eat warm meals. The SHOW team continues to monitor William knowing that one day he may be ready to make the commitment and when he is, we will be there to help. 
---
Do Good:
Did you know The Salvation Army served 31 million Americans last year fighting hunger, homelessness, substance abuse and more—all in a Fight for Good? Where can you help?

Take our quiz

to find your cause and learn how you can join in today. 

It's because of people like you that The Salvation Army can serve more than 31 million Americans in need each year. (

That's almost one person every second, every day.)

Your gift helps The Salvation Army fight for good all year in your community. It's an effort to build well-being for all of us, so together we rise. And that good starts with you.

Give to spread hope

with a donation of funds, goods or time today. 

You can make an impact in the Fight for Good with whatever time and skills you have. Whatever your interest, there is a

you-sized

need for goodness in the world.

Get the guide on How To Be An Impactful Volunteer

and get in the Fight for Good today.