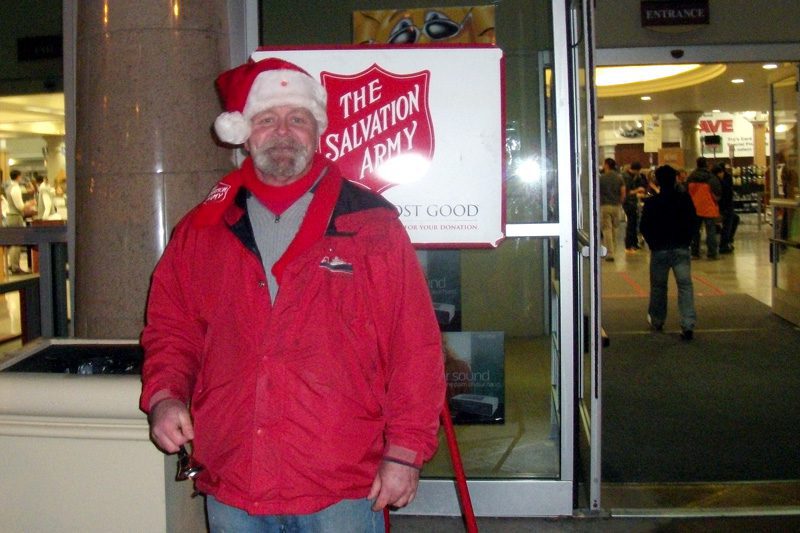 VOLUNTEER SPOTLIGHT: Meet Ed
Renton, Wash., volunteer
Three years ago, Ed was unemployed, working day-to-day through a temporary assignment agency. The agency connected him with The Salvation Army in Renton, Wash, and he got a job ringing the bell during the Army's annual Red Kettle Campaign.
"Ringing the bell was so fulfilling," said Ed, who prefered not to give his last name. "I decided I would do it for free someday."
The next year, Ed secured full-time employment and made good on his promise—he's been a volunteer bell-ringer for the past two Christmas seasons.
"We can depend on him during a very busy time of year, and that is worth so much to us," said Major Kris Potter, Renton corps officer. "Ed does much more than ring the bell; he saves us time and money." Ed volunteered every Saturday at a local shopping center during the season, standing with the kettle from 9 a.m. to 6 p.m. Plus, he drove a few other bell-ringers to their locations before their shifts, and picked them up afterward.
Ed's kettles are among the top earning every season.
"I bring a big smile, a positive attitude, and wish everyone a Merry Christmas," he said. A red coat, fur-trimmed hat, and uncanny resemblance to Santa Claus probably help attract attention, too.
Ed's generosity extends beyond The Salvation Army. In addition to his full-time work, he is a house leader with Journey Ministries, a faith-based transition program for people moving from incarceration to independent living. As house leader, he supports up to 12 men with life skills training, resume building, job skills, Bible study, and general strategies for transitioning back into the community.
"Most of my life, I wasn't like this," Ed said. "I spent most of my time looking out for me. But now, I am more fulfilled by doing things for others."
"Christ came here to serve others; now I live for him."