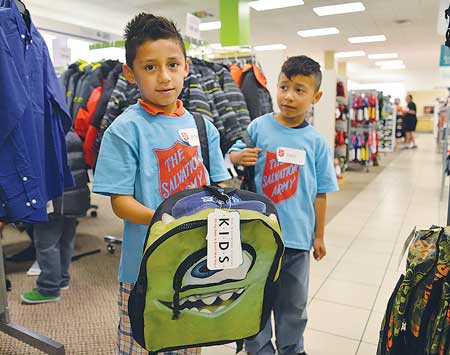 Northwest donor pays for school shopping spree
More than 90 Seattle children shop at JCPenney for their school needs.
Thanks to local donor Jean Renny more than 90 low-income students from Seattle received a back-to-school shopping spree at JCPenney.
Renny, a long-time Salvation Army supporter, donated $40,000 to the White Center Corps—$20,000 for youth programs and services and $20,000 for the shopping spree.
The corps selected children for the event using state and federal guidelines to assess need. All the kids are students in Seattle public schools (grades K-12), and most live and attend school in the White Center area.
"Every day we see kids at our community center with clothing and shoes that are worn out or don't fit them properly," said White Center Corps Officer Major Raymond Erickson-King, who organized the event. "It gives a kid a feeling of confidence when they have their own new clothing, and that confidence can help lead to success in school."
By 7:30 a.m., after a breakfast provided by Starbucks, each each child was paired with a chaperone and began shopping at JCPenney. For many students, it was their first experience shopping for their own clothes. JCPenney supported the project by adding a discount on most merchandise, thus stretching the donation even further.
Renny, now in her 90s, says she believes giving children a fresh start to the school year enables them to focus more on their education, rather than their ability to fit in. She began this annual project in 2004 and is the sole funder of the event. Prohibited from attending this year due to health issues, Erickson-King and Captain Jennifer Erickson-King will visit her to share photos and videos from the event, and deliver thank-you notes from the kids.