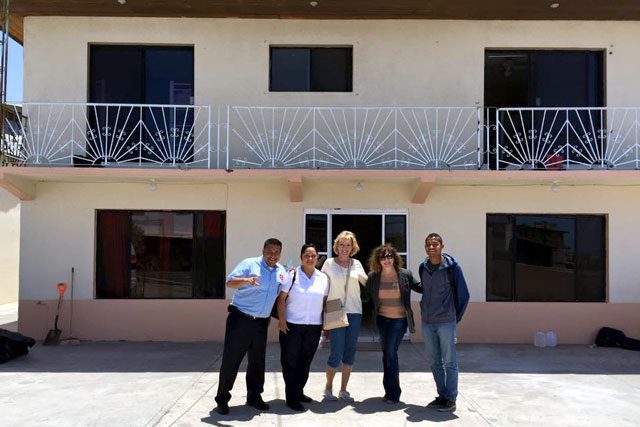 New Tijuana shelter helps deportees
The facility accommodates up to 30 women and children at a time.
By Suzi Woodruff Lacey – 
In culmination of several years planning, The Salvation Army recently opened a shelter in Tijuana to provide refuge and resources for women and children who have been deported by the U.S.
Casa Puerta de Esperanza, or "door of hope," is designed to help the deportees repatriate to their community of origin or to build new lives in Tijuana.
Hundreds of women and children are deported daily and released at the Tijuana Deportation Processing Center near the Tijuana riverbed. Because many have lived in the U.S. for years and have no family in the area or connection to the city, they become targets for kidnapping and human trafficking.
The Salvation Army and San Diego entrepreneur Alex Zikakis teamed together to open the shelter. Zikakis realized the need after visiting The Salvation Army Tijuana's shelter for men recently deported from the U.S.
"This shelter will provide a safe haven for these women and children and help them reconnect with their home of origin in Mexico so they can resume productive lives," Zikakis said. "There were 17,000 child deportations from the U.S. last year alone, many of whom were located without one or both parents. The shelter has nothing to do with politics, and all to do with helping these people transition safely back in Mexico."
The shelter accommodates 30 women and children at a time, who are allowed to stay up to three months. Social workers work with the mothers to help them find housing and employment.The operating budget is estimated at $100,000 annually.
"Our men's program in Tijuana, which has sheltered migrants since 1957, will be the model for the new women's and children's shelter," said Lt. Colonel Sara Chagas, Mexico territorial secretary of social services. "Our hope is that more facilities will follow in Mexico along the U.S. border as awareness and understanding grow as to the challenges these deportees face after being 'Americanized' for so many years."
Zikakis, who has been involved in The Salvation Army's Tijuana men's shelter for 10 years, completed a 16-mile ocean swim along the coast of Kauai to raise more than $35,000 from friends and business associates for the new shelter. A lease for the facility has been signed and The Salvation Army will operate the shelter through The Salvation Army Mexico Territory.
Zikakis, a Carlsbad resident and president of Capstone Advisors, began volunteering with The Salvation Army in Tijuana after being introduced to it through his church.
"Without having been engaged in the men's shelter firsthand, I would not have understood the magnitude of the violence and other risks deportees face, and the issue is escalating rapidly," Zikakis said. "This shelter will make a very real difference in many lives each year."