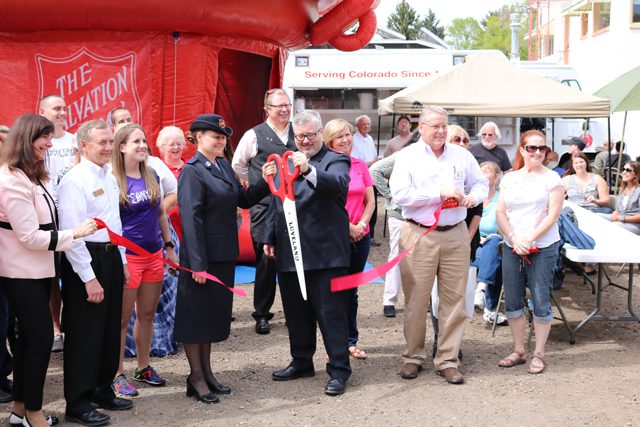 New Loveland Service Center changing lives
Community needs assessed to ensure center has maximum positive impact.
By Caramie Petrowsky –
In the six months that The Salvation Army Service Center in Loveland, Colo., has been open, it has made an impact on local residents.
Prior to March 1, the center was a service extension unit, lacking a physical location.  
"Now that we're open as a center, we're able to provide additional services that were not available before," said Olga Duvall, the Loveland Service Center Coordinator.
Before opening the doors at its downtown location, Duvall talked to other community organizations and families to figure out the gaps in community services available to local residents.
"Every person said 'we need additional rent assistance so that if something happens, if a person loses a job or gets an illness and they aren't able to pay their rent, they don't become homeless,'" Duvall said. "With rent assistance, we're able to keep families in their homes."
Gloria is one woman who has benefited from the new Loveland Service Center. While Gloria was going through a round of chemotherapy, her landlord decided to sell the house she'd been renting.
"She was one step from being homeless," Duvall said. "She had found another place to go, but she didn't have enough money to pay her deposit and the first month's rent."
The Salvation Army helped with a portion of her move-in costs.
"Now she's able to rest at her new home," Duvall said. "She wrote us a beautiful thank you card that said: 'Your help really is appreciated. Thank you so much for being there at a time when everything in my world is so different. All things are possible through Christ Jesus.'"
Along with rent assistance and offering basic necessities, like food and clothing, the center is partnering with veteran services. Each Wednesday, a representative from the U.S. Department of Veteran's Affairs (VA) comes to the center to meet with homeless veterans face to face and, depending on their situation, refer them to the correct services. It was Don, a senior citizen experiencing homelessness, who gave Duvall the idea to connect with VA services.
"Don started coming in daily for a cup of tea and a snack," Duvall said. "We realized he was very sick and didn't have a way to get to the VA hospital. The nearest one is in Denver—60 miles away. Once we invited a VA rep, he met with him and was able to refer Don to the VA's homeless veterans' program. Now he's in transitional housing and his health is back to normal. He's awaiting permanent housing now."
Community members identified transportation issues as another place the new center could help. The Salvation Army provides bus passes that help individuals get to their jobs or to doctor appointments.  
"Scott was hired in the nearby city of Fort Collins but he was homeless and didn't have the initial money to buy bus tickets every day to get to work," Duvall said. The center gave him a monthly pass, which in turn will help him save money to use to find a place to live, Duvall said. Last she knew, Scott was looking for an affordable place to live and saving money for his own vehicle.
"We haven't seen too much of him because we think he's working," she said. "It's a good sign when we don't see people. Once people are able to overcome their difficulty and get back on their feet, it's natural they don't come anymore."
Much of the center's success is due to Duvall's leadership. The Russian immigrant celebrates 20 years working with The Salvation Army this year. She started as an interpreter in 1996 when she translated for a missionary team in Volgograd, Russia. That's when she learned about God and about The Salvation Army.
"I fell in love with ministry and have stayed ever since," she said.
Duvall met her husband at The Salvation Army High Peak Camp in Estes Park, where she'd been invited to work during the summer. Eventually she ended up working as the social services director in Fort Collins for a decade. She jumped at the opportunity to open the Loveland Service Center, she said.
"This is the opportunity of a lifetime, to be able to start something new from the ground up in a place where there's a lot of need," said Duvall, whose long-term goal for the center is to transition to a full-service Salvation Army corps offering church services, Bible studies and youth programs.