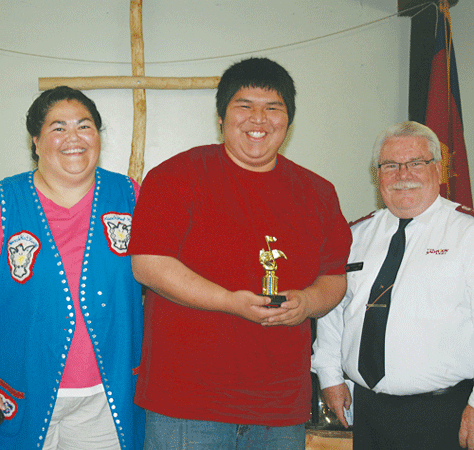 New ideas crescendo in Alaska
Annual camp offers new opportunities for creative expression.
This summer, the Alaska Divisional Music and Worship Arts Camp, held annually at King's Lake Camp, placed an equal emphasis on music and the creative arts while expanding elective class offerings to include creative movement.
While the camp still held auditions and gave theory tests, every delegate could also focus on a creative art.
"We wanted to ensure that every creative way of expressing our love for Christ was available for our delegates," said Jon Tollerud, Alaska divisional music specialist.
Captain Julie Cornett, who first brought the creative movement idea to the Anchorage Corps, provided instruction in the new elective. Black lights enhanced the students' white gloves and socks during performance, adding to the visual impact.
Music at the Alaska camp has a different ring to it. In addition to woodwind instruction led by Stephanie Freeman, The Salvation Army recruited music students from the University of Alaska to teach piano and percussion.
"It was amazing how receptive the kids were," said percussion instructor Eric Bleicher. "In three days we composed and performed a piece, which is an amazing accomplishment!"
Carl Darby, territorial Christian education, evangelism, discipleship and lay leadership director, provided guidance, musical excellence and humor for the delegates as a special guest.
During the final concert, Major George Baker, Alaska divisional commander, presented the top awards. Andrew Smith (Anchorage) and Belle Bottjen (Fairbanks) received the Dolores Rivitt Honor Camper award, in the junior and senior categories respectively, which were presented by Rivitt.
Lacey Harrington (Mat-Su) and Dominique Smith (Sitka) received the Tommy Jackson Outstanding Musician awards. Smith is the great-grandson of Tommy Jackson. As she helped present the awards, Elizabeth Medicine-Crow, Jackson's granddaughter, spoke of the wonderful tribute this was to her grandfather and his love of music.
"I was very proud of all our students," Tollerud said. "I had high expectations for the kids. I watched them work hard throughout the week to meet these and then overwhelmingly exceed them at the concert on Saturday. We are very fortunate in Alaska that we have such immensely talented kids and the quality leadership surrounding them. I am blessed to work in such a great division."