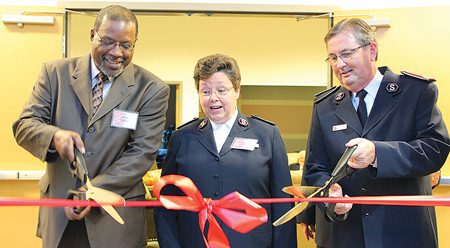 New building for Denver's Harbor Light
By Courtney Culpepper
More than 200 friends of The Salvation Army recently joined the men of Denver's Harbor Light Center—a relapse prevention and recovery program—at the dedication of the center's new building.
Territorial Commander Commissioner James Knaggs gave the dedicatory address, focusing on the center as a beacon of light providing comfort and "breathing new life into all who enter its doors."
One of those recipients of "new life" was Clark, a resident who was sweeping the floors of Harbor Light 18 months ago when he overheard plans to build a new facility. Before addiction took over his life, Clark had been an architect, and when he heard the news, he completed architectural renderings.
"When the architects got hired, I could go to them and say, 'here,'" he said.
During the conception, design and construction of the new building, Clark worked with architectural firm Studio Completiva, which employed him at the project's start. He continues to work there today.
"It helped the overall project by me being a past resident," Clark said.
At the dedication, Intermountain Divisional Commander Lt. Colonel Dan Starrett illuminated the driving idea behind the building's design: Choice is the foundation of dignity.
"The building we stand in today allows men the freedom to choose," Starrett said. "They are trusted. They are encouraged. Every choice—large or small—afforded to this building's residents builds their confidence and self-worth. It empowers these men to fight their addictions because they are valued, and they can make the right choices."
The Salvation Army's Harbor Light ministry is found throughout the world, usually in large cities. In Denver, the program has been active for many years and currently houses 90 men. With construction complete, it can reach its capacity of 120 men.
"This center is first class," Knaggs said. "It will telegraph by means of its careful attention to beautiful detail and comfort a signal to the men in residence that they can see themselves in the best of situations in life."