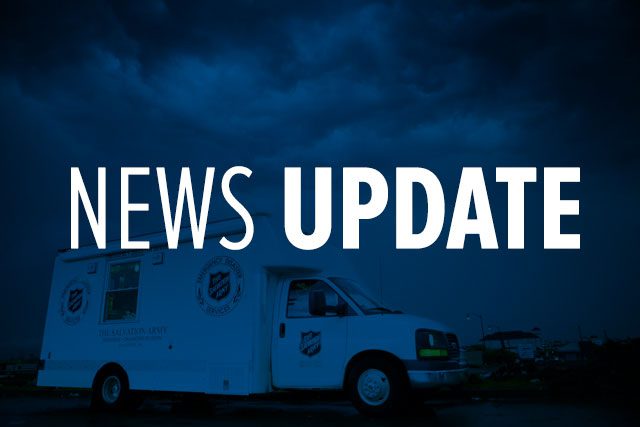 Army moves to recovery phase in Napa
By Sydney Fong –
The Salvation Army is shifting its response to long-term recovery in Napa following a 6.0 earthquake Sunday morning, the Bay Area's largest in 25 years.
After California Gov. Jerry Brown declared a state of emergency, roughly 70,000 residents had their power restored Monday afternoon, according Pacific Gas and Electric.
The Army secured a seat at the Emergency Operations Center (EOC) and has been involved in all aspects of the disaster and recovery, said Major Bill Dickinson, Del Oro divisional commander.
Several Salvation Army Emergency Disaster Services (EDS) canteens are still stationed at multiple sites throughout Napa, including the evacuation center (Crosswalk Community Church, 2590 First Street) and the City of Napa Corporation Yard (770 Jackson St.). Another team is serving residents at a mobile home park (4421 Solano Ave.).
The meal distribution has also been helped by a truckload of water donated by Raley's Family of Fine Stores.
In all, The Salvation Army has served more than 3,300 meals in Napa since the assistance started Sunday morning.
In Vallejo, an EDS team also served lunch today at First Baptist Church, a location that was red-tagged, or deemed unsafe to enter, by city officials. A canteen was set up to distribute more than 150 meals to the homeless, a service that is typically provided by the church.
The Army also obtained a matching grant from Raley's to provide gift cards for groceries and is planning to distribute Wal-Mart gift cards for household items through the EOC.
Dickinson said there is minimal structure damage in the Napa Corps, several cracks in the walls throughout the Napa Quarters, one broken window and a lot of debris.
The U.S. Geological Survey (USGS) estimated based on their locations that 15,000 people experienced severe shaking, and 106,000 people felt very strong shaking. The quake struck about 7 miles deep and was considered "strong" by the USGS. The economic loss will probably top $1 billion, according to USGS data.
The Salvation Army will continue to assess the ongoing needs and how to best assist residents and first responders throughout the entire response process.
Monetary donations are the most critical need as supplies and personnel are mobilized.
To support relief and long-term recovery efforts, click here to give online or call 1-800-SAL-ARMY and designate gift for 'Napa Earthquake'

You can also text the word  IGIVE to 80888 to donate $10 (to be deducted from your phone bill); to confirm your gift, respond with the word "Yes."

Send a check, marked 'Napa Earthquake' to The Salvation Army, Del Oro Divisional Headquarters, PO Box 348000, Sacramento, CA 95834