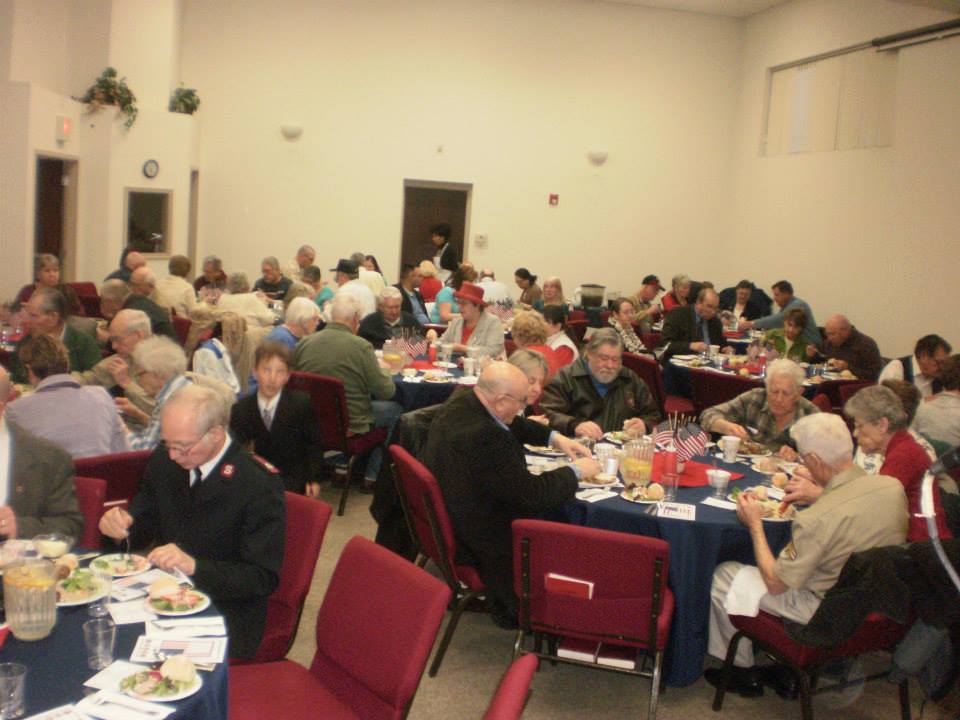 Nampa Salvation Army honors veterans
The Salvation Army in Nampa, Idaho, hosted an appreciation event honoring all veterans—World War II, Korean, Vietnam, Gulf, Iraq and Afghanistan—with dinner, music, inspirational speakers and door prizes. The corps welcomed 86 individuals to what it plans to make an annual event.
"What an extreme pleasure it was to honor our veterans in this way," Nampa Corps Officer Major Bill Hathorn, also a veteran, said.
Hathorn and his wife, Brenda, got the idea after the Idaho Press Tribune asked The Salvation Army to buy an advertisement in a special edition of the paper honoring veterans. Funds from the ads would benefit them through the local nonprofit organization, Wyakin Warrior Foundation.
While The Salvation Army is often acknowledged for its World War I doughnut girls and for its involvement with the USO, the Hathorns wondered: what are we doing today to let our service men and women know we support them?"
As the event began, the Nampa Police Department posted colors while attendees said the Pledge of Allegiance. Sisters' Promise, a ladies trio, sang the "Star Spangled Banner" and the crowd-pleasing "Boogie Woogie Bugle Boy," and led a singalong.
Guest speaker was Jeff Bacon, executive director of the Wyakin Warrior Foundation, and a retired veteran of 26 years. His organization offers vets rehabilitation, scholarships, mentors and professional development. Bacon wants people to appreciate the service and contributions of these men and women.
"Many young people today do not understand the sacrifices veterans have made nor why they should receive benefits," he said.
World War II veteran George Jones spoke about his honor flight to Washington D.C., and about his 2013 Kuna High School graduation. He was able to finally participate in this ceremony, since he left for the war right before his own graduation.
Salvation Army Nampa Advisory Board members served the guests and listened to their stories. At the dinner's conclusion, doughnut girls showed up with treats donated by Krispy Kreme.
"Veterans said they had never had such an event before and were very grateful and appreciative," Brenda Hathorn said.
Local companies supported the dinner with donations: Hamilton Cattle Co. supplied beef, Texas Roadhouse, potatoes, and Flying M Coffee Garage, coffee.
"For the first year of this event, it was a smashing success," Advisory Chairperson Deb Harris said.