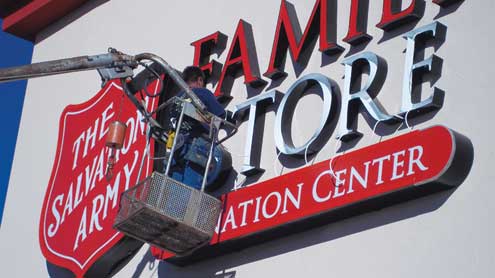 Move over thrift, there's a new Family Store in town!
San Bernardino welcomes a new Salvation Army Family Store.
by Dawn Marks
The San Bernardino Adult Rehabilitation Center (ARC) hosted a successful grand opening for the newest Salvation Army Family Store located at 911 South E Street in San Bernardino, Calif.
The store's sales floor area is 23,000 square feet. The Salvation Army acquired the property, which formerly housed a Circuit City Store, several years ago. Interior and exterior renovations began in June 2010, with new fixtures, paint and structural upgrades. The improvements allow for greater efficiency in processing store merchandise and an upscale shopping experience for customers.
"Through merchandising and store design, we've replicated the look and feel of a big department store, providing a better selection and the nicest customer amenities, like you would find at a Macy's or Target," said Major Charles Fowler, administrator for the San Bernardino ARC.
Hundreds of waiting customers joined Salvation Army officers and supporters on Thursday morning, Dec. 2, for a ribbon cutting ceremony officiated by San Bernardino Mayor Patrick Morris. The first 100 customers received free phones, and throughout opening weekend, shoppers could enter opportunity drawings for store gift certificates. Free coffee, water, doughnuts (1,000) and hot dogs (400) were given away at the Army's emergency canteen parked outside.
"It makes me extremely proud as an advisory council member to have been a part in the opening of this new Family Store in San Bernardino," said San Bernardino ARC Advisory Council Member Linda Turner. "It is an asset to The Salvation Army as far as providing the income that will allow us to do more things for the men in the program."
For the last nine years, Turner has coordinated an Angel Tree at her work place (Konica Minolta in San Bernardino). Assisted by the ARC advisory council, she has made sure that the children of the men in the ARC program receive Christmas gifts.
There are 110 beds at the San Bernardino ARC in a facility built two years ago.