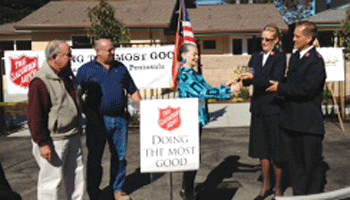 Monterey Peninsula Corps dedicates new housing units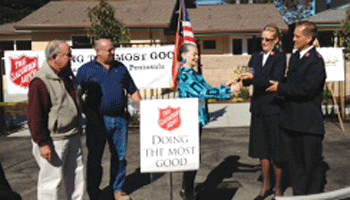 Transitional housing program helps families end homelessness.
By Ted Elisee
The Salvation Army Monterey Peninsula Corps dedicated six new transitional housing units on its land in Seaside, Calif., thanks to a generous legacy from Patricia Garvey.
The townhouses will house homeless families who will participate in a program for up to two years learning tools to prepare them to re-enter society, including budgeting, job and parenting skills. It aims to educate formerly homeless families on how to end homelessness permanently. Corps staff members provide casework, management, logistics, and maintain the property.
The new housing units mirror the Monterey Corps' previously constructed HUD program-sponsored townhouses. However, the new units will not be dependent on government funding. Alternative sources of income, including foundation grants, will alleviate program operation costs.
"We were blessed by the generosity of Mrs. Garvey," said Major David Yardley, corps officer. "We are happy to be able to carry out her wishes."
The corps now has a total of 16 units: 15 for clients and one for the program manager.