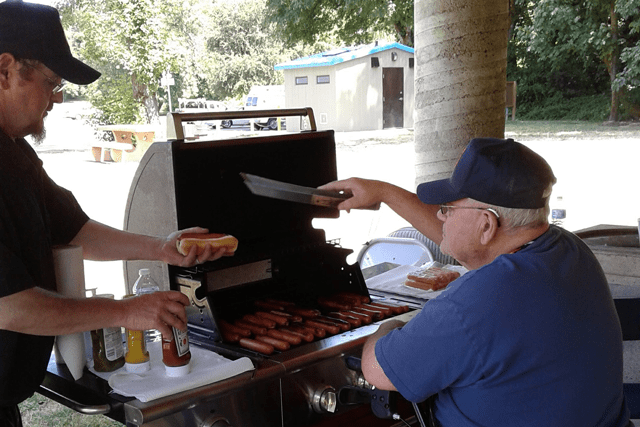 MOM: Men on a Mission
Albany men accept a challenge to reach out to people facing homelessness.
Albany (Oregon) Corps Officer Major Bill Hathorn made a confession.
"For a time, our men's fellowship was nonexistent," he said. "This situation had been weighing on my mind…I decided to try something I thought was a little different."
Hathorn called some of the men together for a luncheon at a local restaurant. Six men showed up and engaged in a discussion about what they could do as a men's fellowship to support the corps and the community.  
"I looked at their faces as they began to share all the things they used to do for people, like building ramps for the elderly," he said. "Most of them could not do that anymore."
One of the men at the luncheon was Robert Miller, and he had a different perspective.
Miller was a homeless man who had started attending the corps' Bible studies and demonstrated a keen understanding of Scripture. Eventually he began attending church, too.  
"At the luncheon, he shared that we should have a ministry to the homeless," Hathorn said. "This is how we came up with the idea of grilling hot dogs and sharing chips and water with the homeless people in the community. We call ourselves MOM—Men on a Mission."  
The men now conduct this relationship-building ministry twice a month, in addition to the monthly men's fellowship meeting.
"On the first time out I was approached by people representing the VA, who were interested in teaming up with us so they could do outreach to homeless veterans," Hathorn said. One of the representatives now attends the men's fellowship.
"We have seen some great things happen, such as Robert Miller being offered a job by the VA, to be their contact for other homeless vets," Hathorn said.
Miller is grateful to God.
"I just wanted to help, and look how God helped me," he said. "I didn't even ask for the job; they offered it."
Hathorn has high hopes for the ministry. One goal is to develop the relationship with the VA, to further help veterans in need. Currently, the Albany Corps is part of The Salvation Army Home Front War Relief effort, which assists veterans facing emergency situations.
"We are not sure where this will take us in the future, but it is sure exciting to watch how God moves," Hathorn said. "Praise God for men rising up."