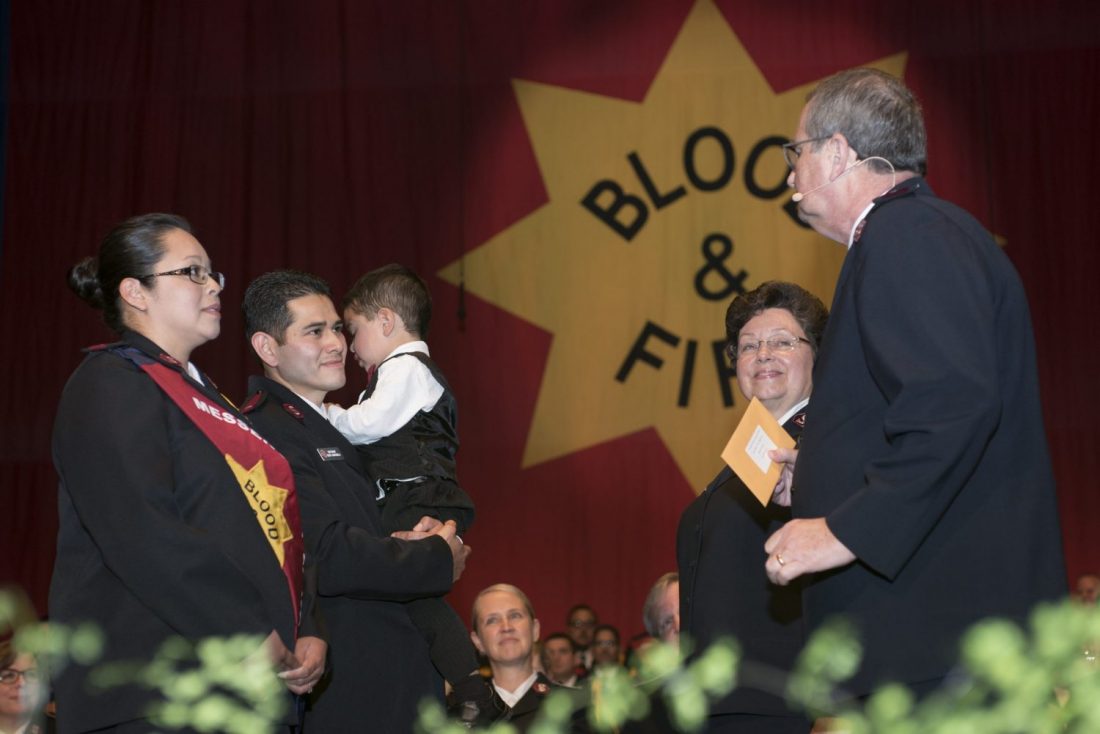 Messengers of Light appointed
The 48 new lieutenants will serve in communities across the Western Territory.
The Western Territory commissioned, ordained and appointed 48 new lieutenants of the Messengers of Light Session June 12 at the Pasadena Civic Auditorium in Southern California before more than 2,000 Salvationists and supporters.
"Being a messenger is not a particularly glamorous job," said Major Brian Saunders, principal of the College for Officer Training (CFOT) at Crestmont, in his commendation of cadets during the commissioning and ordination service. "It's never about the messenger; it's always about the message. And perhaps that's as it should be—especially when it's God's message."
Saunders cited the session verse: This is the message we have heard from him and declare to you: God is light; in him there is no darkness at all (1 John 1:5 NIV).
"My prayer is that you won't just share the light, but you'll be the light," he said to the session. "May God's light shine in your hearts just as you reflect it to others."
Following his commissioning of the cadets as lieutenants in The Salvation Army, James Knaggs focused his message on Colossians 1.
"What is God's mystery?" he asked. "It's Christ in you…You are his hope. Not you alone; we don't have the strength…but Christ in you! It's a calling by God for all of us, marked by God's authority and defined by a relationship with God. It's wonderful…Loved ones, you're the hope of glory."
Knaggs called out names of accepted candidates for officership and asked each to stand.
"These are special people, but they are regular people, too," he said. "They are the hope of glory. Who else will come to the altar to affirm their calling? If the world is going to find hope, it's got to find it through you and me."
That afternoon, in the service of appointments, Lt. Joleen Aycock spoke on behalf of her session about her call to serve, an unexpected call, she said, from a comfortable life serving Christ elsewhere.
"We go to our first appointments, as lieutenants, by the grace of God and by his power alone," she said. "He has called. He is faithful. He will make us true Messengers of Light."
The session responded with its song, "Then The Light" by Len Ballantine, accompanied by the now second-year cadets, the Joyful Intercessors.
Southwest Divisional Commander Lt. Colonel Joe Posillico, who retires in December, gave the charge to the new lieutenants. He shared advice once shared with him: preach the Word, love your people and keep the receipts.
"Your ministry will be a lifelong learning experience," Posillico said. "Always be a reflection of the light."
The Knaggses then appointed the 48 lieutenants to locations throughout the Western Territory with simple guidance: "You'll never do better than what God wants you to do."