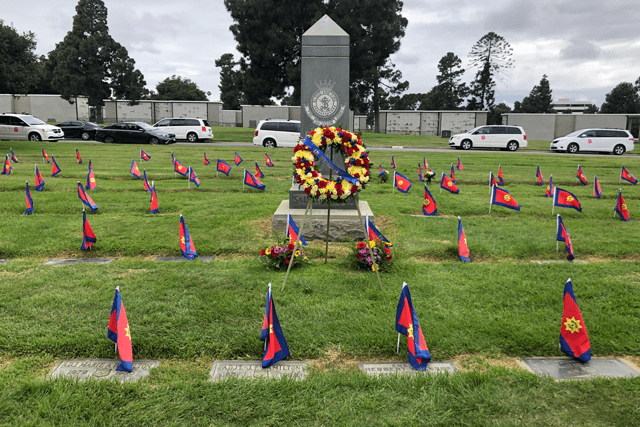 Memorial Day service remembers the saints of The Salvation Army
By Hillary Jackson –
The California South Division held its 2019 Service of Remembrance at Inglewood Park Cemetery May 26, alongside visiting International Secretary for the Americas and Caribbean Commissioner Mark Tillsley and Zonal Secretary for Women's Ministries Commissioner Sharon Tillsley and Western Territorial leaders Commissioners Kenneth G. and Jolene K. Hodder.
The Inglewood (California) event fits into a longstanding tradition in which The Salvation Army family gathers to worship together and hear the names of officers and soldiers who have been promoted to Glory in the past year read aloud.
The Service of Remembrance is traditionally held the Sunday before Memorial Day at cemeteries with a Salvation Army plot, though the event often happens in other locations as well. Throughout the Western Territory, similar Service of Remembrance events were held, including in the Hawaiian and Pacific Islands Division where representatives laid a wreath at the National Memorial Cemetery of the Pacific.
In Inglewood, small Army flags placed on the graves of officers and soldiers promoted to Glory waved in the wind as the Long Beach Citadel Band and Songsters performed songs, including "Worthy is the Lamb."
A cadet honor guard posted the colors before California South Divisional Director of Women's Ministries Lt. Colonel Lani Chamness led attendees in the hymn, "Now Thank We All Our God."
Sharon Tillsley led prayer before Western Territorial Commander Commissioner Kenneth G. Hodder and Territorial President of Women's Ministries Jolene K. Hodder led the Roll Call of the Saints for the last year, which included 13 officers from the Western Territory and 29 soldiers from the California South Division.
Following the placing of the memorial wreath, Mark Tillsley gave a message in which he spoke to the assurance that "death is a stepping stone to a life more abundant" detailed in Revelation 14:13, "Then I heard a voice from heaven say, "Write this: Blessed are the dead who die in the Lord from now on." "Yes," says the Spirit, "they will rest from their labor, for their deeds will follow them."
"In Christ there is security, and serenity and stability," he said, later adding our eternal home is also a place of security, serenity and stability. "My prayer this afternoon is that all who are present would have that same assurance that this is your destination as well."
Territorial Secretary for Women's Ministries Colonel Colleen Riley echoed Tillsley's sentiment before leading the closing hymn, "Great is Thy Faithfulness."
"He is faithful to us now, and he promises to continue his faithfulness to us, those who love him, serve him and have accepted him as our savior," Riley said. "We get to be with him in heaven—faithfulness all the way through our lives."
Before the playing of Taps and the retiring of the colors, California South Divisional Commander Lt. Colonel John Chamness gave the benediction.
"We rejoice today in the resurrection; that even though death will eventually come, we trust in Christ. We trust in his resurrection," Chamness said. "The grave could not hold him, and will not hold us as well. Praise God that we celebrate today, in the fact that he is risen. He is risen indeed."