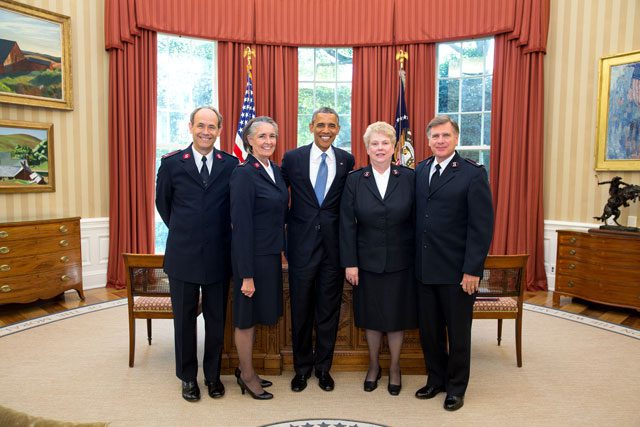 Salvation Army national leaders meet with President Obama
Morning meeting takes place Aug. 5 in the Oval Office.
National leaders of The Salvation Army in the U.S. met with President Barack Obama Aug. 5. Commissioners David and Barbara Jeffrey, national commander and national president of women's ministries, respectively, along with Lt. Colonels Ron and Carol Busroe, national community relations and development secretary and national director for public policy, respectively, joined the President for a morning meeting in the Oval Office.
"The President was very cordial and expressed gracious comments about the nonpartisan service of The Salvation Army across America," Jeffrey said. "We also spoke to him concerning our work around the world, in particular in Mexico, Central and South America."
Other subjects covered in the 20-minute meeting included the Pathway of Hope, the Kroc Centers, the adult rehabilitation programs, and corps programming in general.
"We shared in some detail the economic impact of the Philadelphia Kroc Center, Jeffrey said. "We also suggested that he might wish to visit the center in Chicago and/or Hawaii."
Obama was born in Honolulu, Hawaii, and spent many years living and working in Chicago.
When the President asked if there was anything he could do for The Salvation Army, the visitors spoke to him about the importance of the charitable deduction, since most Army funding comes from private donations. They also suggested greater visibility from the White House by including the Army's work in speeches like the State of the Union.
The Jeffreys and Busroes also met with several key staff members for over an hour, discussing Salvation Army programs and how the Army might better serve the needs of others in America and around the world.
"To conclude our meeting [with the President]," Jeffrey said, "I asked if we could pray with him and his family, and he readily and eagerly agreed."