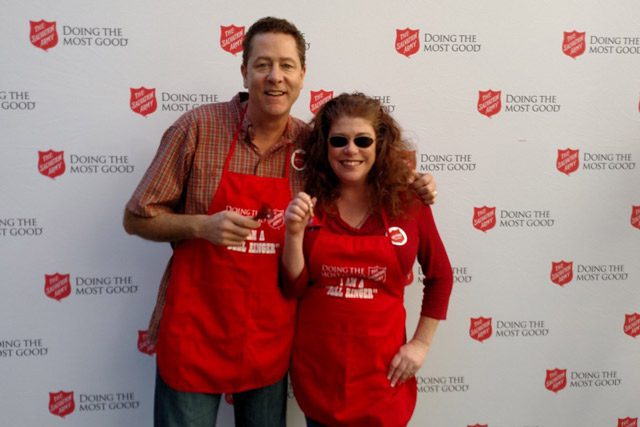 Meet Joice Truban Curry
Public relations powerhouse boosts The Salvation Army's efforts in San Diego.
By Abagail McKiernan – 
For Joice Truban Curry, doing the most good has always meant using what you've been given to help where you can in both big and seemingly small ways. 
Whether that's volunteering at a food pantry or on a committee, or assisting with administrative tasks, Curry believes everyone can make an impact because everyone has different skills and strengths they can contribute. 
"Mine is in public relations, but everybody has something they can bring to the table," Curry said.
Curry is active in the industry and community. She is a two-time past president of the San Diego chapter of the Public Relations Society of America (PRSA), past chair of the national PRSA Honors and Awards Committee, and a director on the Starlight Theatre San Diego's Civic Light Opera's executive board. She also volunteers with The Salvation Army and American Red Cross in the San Diego area. 
She's also racked up a collection of awards, including the Edward L. Bernay's Eva Irving Award (Community Service Award), Public Relations Professional of the Year by the San Diego Chapter of PRSA, and three national PRSA Silver Anvil Awards. She was even named one of San Diego Metropolitan Magazine's top 40 outstanding community leaders and a "Visionary in Philanthropy" by The Salvation Army. 
Now, as Founder, CEO and President of the 19-year-old public relations agency, c3 Communications, Inc., it's no surprise that Curry found a welcome seat with The Salvation Army of San Diego Marketing Committee in 2007 after a Christmas "toy crisis."
Curry got a call from her friend Suzi Woodruff Lacey, then-Community Director of the San Diego Salvation Army, in desperate need of help getting the word out about a toy shortage and a limited timeframe to get hundreds of children's wishes met. 
It was a pressure situation, but Curry had all of the tools and contacts needed to turn a toy shop nightmare into a Christmas miracle.
"I got on the phone, and I emailed every news person I knew in San Diego, saying 'we need help!'" she said. 
And like a Hallmark Channel movie, toys began flooding in within hours. A local toy manufacturer in the area even donated $1,000 worth of toys that season, allowing The Salvation Army in San Diego to meet its quota just in time and provide toys to every child on the list.
However, Curry's relationship with The Salvation Army started long before 2007; in fact, it started before she was even born. Her mother, Dora Truban, forged that connection, before she ventured to the United States in hopes of a different life for her children.
Truban grew up in an impoverished Guatemalan village menaced by frequent and devastating earthquakes that would often collapse the meager structures and wreak havoc on the modest village. 
"She'd tell us [The Salvation Army] would bring water and supplies right away," Curry said. "Even though they were always on the scene first and stayed the longest, other organizations would come in after and receive all of the credit, but that never stopped them from coming. They always showed up." 
Those stories are the ones Truban would tell whenever her daughter asked her why she'd put money in The Salvation Army's Red Kettles every holiday season, no matter her financial circumstances. 
And those stories, in a way, shaped Curry's own commitment to give back. Today, her 81-year-old mother can still be heard sharing her sage advice and love for The Salvation Army's work. 
Curry said she's mindful of the impact that showing up time after time can have on those you may not know are watching.
"As an adult, I cannot walk by a red kettle without putting money in," she said. "I do this all for my mama; that is my 'why' for volunteering."