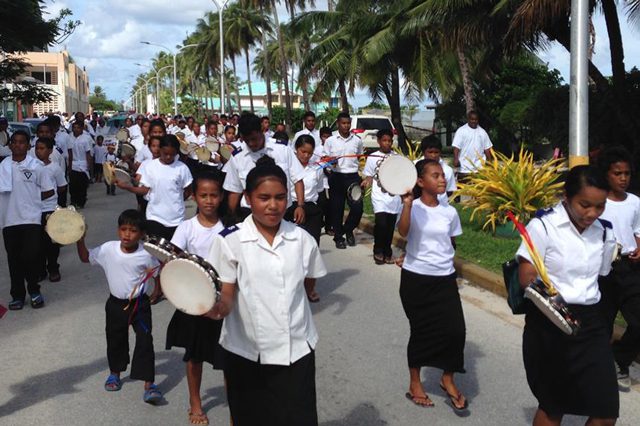 Marshall Islands vow to "Live Free"
Salvationists join others in support of victims of human trafficking.
The Salvation Army in the Republic of the Marshall Islands (RMI) joined other groups Sept. 24 for RMI's LIVE FREE DAY, when participants showed support for victims of human trafficking and acknowledged recent developments in the RMI government regarding a National Action Plan for Human Trafficking.
The Rita and Laura Corps joined other organizations to march through the streets of downtown Majuro.
"The Salvation Army YPL [Young People's League] timbrels could be heard through the streets," said Major Judy Bennett, Leadership Training Center Director for The Salvation Army in the Marshall Islands. "Many residents had to take a second look as the young people performed their synchronized routines in their white and black YPL uniforms. Many people commented how well these young people represented The Salvation Army."
The issue of human trafficking is a major concern in the RMI. A recent U.S. State Department report on human trafficking identified RMI as "a source and destination country for RMI women and children and women from East Asia subjected to sex trafficking."
The RMI government rejected the report's negative analysis of RMI's efforts to combat trafficking.
"The Marshall Islands attaches great importance to combating trafficking in persons," RMI Foreign Minister John Silk wrote in an official government statement. "It is with regret that the findings of the report have displayed a total disregard of the ongoing efforts of the national taskforce on human trafficking and its partner law enforcement agencies and non-governmental organizations to tackle trafficking."
Silk said the US government should be specific about what needs to happen to combat trafficking and should aid the RMI government to that end, adding that the Marshall Islands need help prosecuting and investigating these crimes.