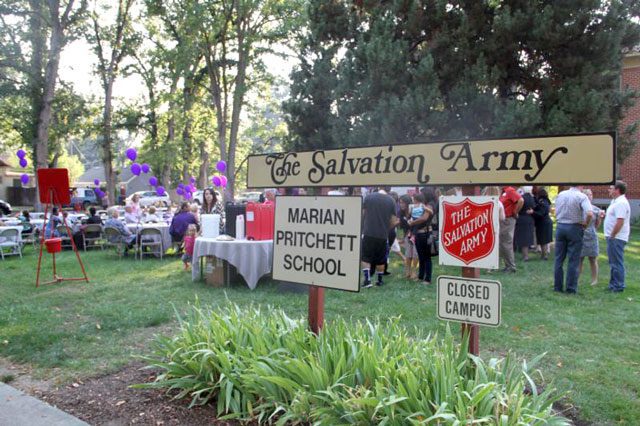 Marian Pritchett School turns 50
The Salvation Army's school for pregnant and parenting teens celebrates 50 years of service in Idaho's Treasure Valley.
Since 1964, Marian Pritchett High School and The Salvation Army have served the academic and social needs of nearly 5,000 pregnant and parenting teens and their children in Idaho's Treasure Valley community.
To recognize its 50-year milestone, a celebratory dinner took place on the school grounds in Boise, bringing together Marian Pritchett alumnae, Boise School District and Salvation Army representatives, community supporters, and current and former staff members.
Lt. Colonel Judy Smith, Cascade divisional commander, spoke, as did The Salvation Army's leaders in Treasure Valley, Majors Robert and Rhonda Lloyd. Other speakers included Boise School District Superintendent Dr. Don Coberly, outgoing Boise School Board President AJ Balukoff and incoming President Nancy Gregory. A special video presentation highlighted graduates of the school and program.
"What a distinct honor it was to speak at the event at The Salvation Army Marian Pritchett School," Smith said. "This 50-year celebration recognized the partnership between the Boise School District and The Salvation Army and acknowledged the community support that is gratefully received."
Working together, the Boise School District and The Salvation Army maintain a program designed to provide a confidential environment for pregnant and parenting young women who want to earn their high school diploma.
"Staying in school is the most important choice that a girl can make for her future, and that of her baby," said Deborah Hedden-Nicely, head teacher at the school. "We are thankful for the ongoing partnership between the Boise School District and The Salvation Army that makes this valuable program possible."
The Boise School District offers the Marian Pritchett School at The Salvation Army's Booth Memorial Campus, where students study the same curriculum as other district secondary school students and earn a regular high school diploma. The Salvation Army provides the facility, an onsite day care, counseling, case management, life skills and an incentive store. Bus transportation is available within the Boise School District.
"Together we are changing the future for these young mothers, as well as their children," Rhonda Lloyd said. "Not only are they staying in school, they are learning to parent and bond with their babies as they build a better tomorrow. We are privileged to partner with Boise School District to help make our community stronger of generations to come."
Currently, plans are underway to replace the 1928 campus–originally home of the Booth Memorial Hospital–with new, modern facilities to best serve the needs of teen moms and their children.
"We couldn't be more proud of all our current students and alumnae for what they have achieved as students and mothers," Lloyd said.