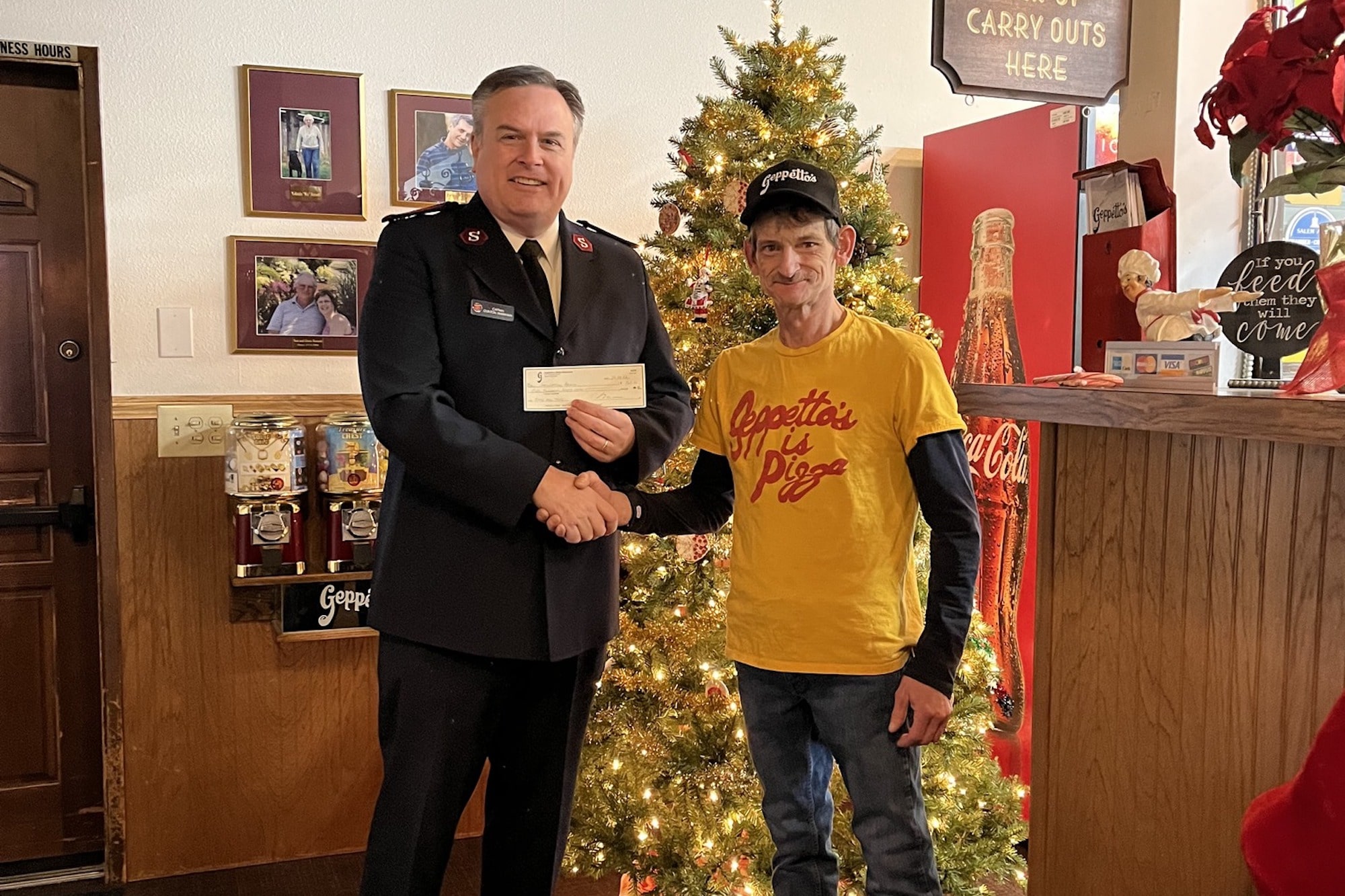 How The Salvation Army helped one man fulfill his quest to do good
Scott Blair found an unconventional way to do good at Christmastime.
It began in July 2022, when Blair started a job at Geppetto's Italian Restaurant in Salem, Oregon, one of his favorite hangouts. There, he works as a bartender, server and lottery attendant—Geppetto's has five Oregon Lottery machines. One of his duties is to collect any funds left behind in the machines, which he could then keep for himself.
Blair, however, had other plans for the money he collected. Geppetto's owner Julie Hoy heard him announce, as he retrieved his first lottery cash-out slip, "I'm going to donate the money to Toys for Tots."
Blair said he was always partial to that cause.
"I see so many kids doing without," he said. "I've done without; my kids have done without. So it's always been something that leans on my heart."
He said he knew from the beginning he wanted to use the money to help someone else. "I'm pretty much content," he said. "I have everything I need."
He did say he was saving up for one personal item—new dentures. His current set doesn't fit properly. "I don't smile a lot because of it," he said.
As the days and months passed, Blair continued collecting the lottery funds for others. Finally, during Geppetto's staff Christmas party Dec. 19, 2022, he approached Hoy and handed her $160 in cash. He thought it might be too late for Toys for Tots but he trusted Hoy would get the money to someone who needed it.
"I had no idea that we'd end up raising so much, just by the little bit of change we're getting," he said. "It's never a whole lot per day. We might end up making $2 or $3 a day, maybe."
Two days after Blair gave her the money, Hoy attended a Salem Chamber of Commerce Women in Business event, where she connected with Jennifer Rounsaville, Business Development Specialist for The Salvation Army Salem Kroc Center and instrumental in the organization's Toy 'n Joy program, which partners with Toys for Tots. Hoy told her about Blair and his fundraising.
Rounsaville spoke with Salem Kroc Center Corps Officer Captain Quinton Markham, who headed to Geppetto's Dec. 22 to receive the donation, unbeknownst to Blair, who thought Hoy had called him in to help with a special project.
"When Scott realized why we were there, he became a little emotional," Markham said. "He didn't want the donation to be about him. He wanted it to be about the children and families that were going to be helped with the donation."
While there, Markham mentioned that he was next heading to The Salvation Army's Toy 'n Joy distribution center, where staff were assisting more than 1,100 local families with new toys and a food box.
"This was the payoff," Markham said. "Scott's effort resulted in some families receiving a great Christmas…I feel blessed to have met Scott. He's a humble guy with others on his mind, just trying to make a difference."
Markham said he noticed that this initial experience made Blair all the more eager to put together a donation for next year.
"When I turned in the money, I said I'd like to set a goal for $500 for this year," Blair said. "But at the rate we're going right now, it's going to go way past that."
He said he's amazed at how many people have come on board. Lately, on his days off, the other Geppetto's employees are collecting the lottery slips for the project. "Now that everybody's on board, we aren't doing like $6 or $7 a week," he said. "Last week we did $22."
And he said he knows of three other local bars that are also collecting for the Christmas project.
"We could help out a lot of kids for next year," Blair said.
Just before Christmas 2022, Hoy shared Blair's story on Facebook, bringing a larger audience to the effort.
"It's really gone crazy…I'm shocked by how much people have responded to it," Blair said. "I would never have thought for one second that it would have gone as big as it has."
The Facebook post seemed to warm people's hearts with the Christmas spirit. When the Oregon Lottery found out about it, they asked if they could share it on their Facebook page. As of Jan. 27, the shared post has received about 1,300 positive reactions, more than 100 shares and dozens of comments. Blair said he reads every one.
"I'm not really a social media person," he said. "So when Julie asked me if she could put it on the Facebook page, I said, 'Well, I guess so.' I had no idea that it would generate so much response. It's just been overwhelming how many people have come into Geppetto's when I'm working and mentioned it—how they appreciate somebody doing something like that…I was never into it for the recognition. I just wanted to be able to give something back, to pay it forward a little bit."
Hoy has noticed some changes lately.
"This effort…has been an inspiration to Scott, too, she said. "He has a skip in his step since we shared his story and we are all thoroughly enjoying the contagious ripples of generosity that have come about in the aftermath."
Meanwhile, Blair just keeps on collecting those lottery slips, saving the money for Christmas 2023.
---
Do Good:
Do you enjoy inspiring stories of impact that build well-being for all? Want to know how to get involved in doing good right where you are? Interested in tools for taking your next best step, owning your story and stepping into your calling? Like reminders that God is good, faithful and offers you joy and peace? Get the Do Good Digest and find weekly inspiration right inside your inbox.
Want more content from Caring Magazine? Follow us on Instagram! Get caught up with the latest stories, podcasts and more to inspire goodness in your life.