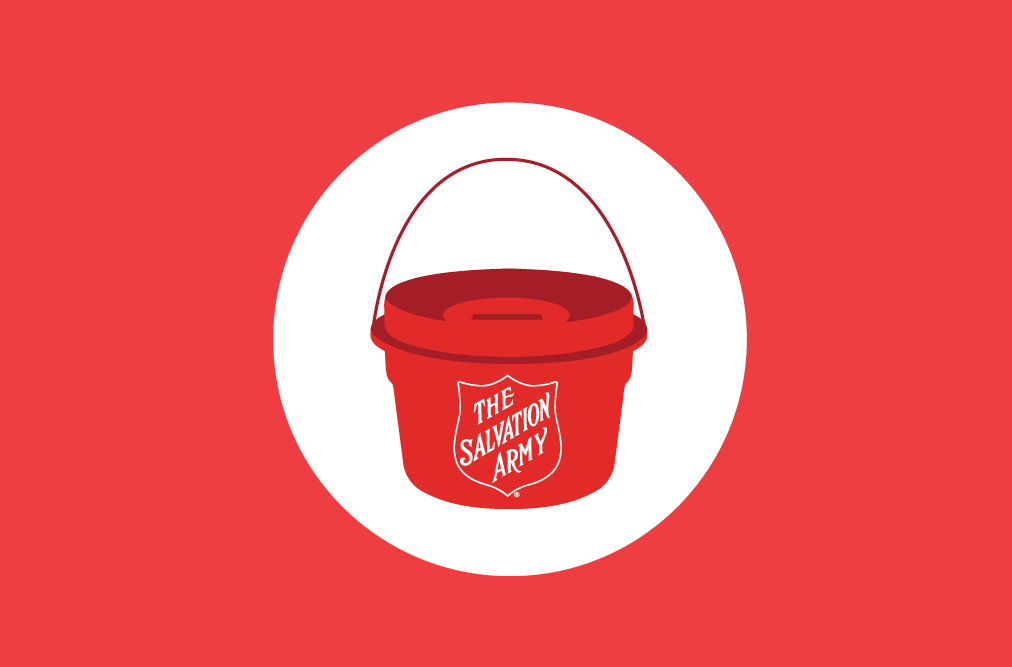 136: Why we love The Salvation Army especially at Christmas
As I often say, you've probably seen the red kettles and thrift stores, and while we're rightfully well known for both, The Salvation Army is so much more than red kettles and thrift stores.
We even covered the who, what, where, why and how of The Salvation Army—plus how you can get involved in the Fight for Good—back in Episode 122. A Salvation Army 101, if you will.
And while we are so much more than those red kettles, Christmas is unquestionably the season of The Salvation Army.
And really, what better season to be synonymous with than Christmas?
Every year, kicking off at the Dallas Cowboys Thanksgiving Day game and running through Christmas Eve, you'll see red kettles and bell ringers standing outside supermarkets and shopping malls, encouraging you to drop in a few dollars—or more—to support The Salvation Army.
Some 25,000 bell ringers a year help The Salvation Army raise money for local programs. And yes—money given in your community stays in your community to help your neighbors.
By meeting tangible needs all year, we give the world a lasting display of the love behind our beliefs. Since 1865, we have been working to provide sustainable solutions for the most vulnerable. We stay not just until the job is done, but long afterward, to ensure that the healing continues.
With the generous support of the public, and a long list of corporate partners, The Salvation Army serves more than 31 million Americans in need each year.
That's almost one person every second, every day.
And this Christmas season, I wanted you to hear it in the words of those engaged in the Fight for Good—volunteering to ring the bell at the kettle, making sure families have food and presents under the tree, and ensuring the lonely are not forgotten.
On today's episode, you'll hear it directly "from the field," as we like to say. You'll hear why we love The Salvation Army, especially at Christmas. And a big thank you to each of you who've given your words today.
So allow me to share with you today, Salvation Army volunteers, employees, officers and friends to introduce themselves and why they love The Salvation Army at Christmas.
Listen and subscribe to the Do Gooders Podcast now. Below is a transcript of the episode, edited for readability. For more information on the people and ideas in the episode, see the links at the bottom of this post.
* * *
The energy, the excitement, the busyness
Aloha. This is Captain Shawn Keoho. I'm in Lihue on the Island of Kauai in the State of Hawaii. I love Christmas with The Salvation Army because of the energy, the excitement, the busyness. It's so crazy. We start off with Thanksgiving and our Thanksgiving lunches, our hot meals going out, our Thanksgiving distribution. And then we go into kettles and our bell ringing and all the amazing volunteers that come out to support us so that we can provide for our community Angel Tree, and Angel Tree signups and the anticipation of the parents. And when they pick up their gifts, the very best thing, when they pick up their gifts, they are so overwhelmed by the generosity of our community for the gifts that their children, their keiki receive, our seniors and our kupuna and the love that our community shows for them, and the very special gifts they receive. These are the things that I love about The Salvation Army Christmas.
The Salvation Army helped my mother
My name is Crystal Clarity from Seattle, Washington, and I love The Salvation Army at Christmas because the Army brings hope, joy and light to neighbors in need in our communities. The Army's selfless generosity and gift of love and hope truly exemplified a meaning of the special time of year. I know firsthand how this love can transform lives at Christmas and throughout the year. The Salvation Army helped my mother as a young, single, scared mom in a time of great need. We will forever be grateful for the Army's kindness and love.
We get to be the hands and feet and voice of Jesus
My name is Major Bob Lloyd from Portland, Oregon, and I love The Salvation Army at Christmas because we get to be the hands and feet and voice of Jesus to a world that really needs to know that they're loved and cared for.
To help heal and restore what's been broken
Hi, my name is Captain Lisa Barnes from Las Vegas, Nevada, and I love The Salvation Army at Christmas because we get to partner with folks in the community to help heal and restore what's been broken, and help kids know that they are loved and valued.
For its passion, its compassion, and its integrity
My name is Marlene Klotz-Collins from Phoenix, Arizona. I love The Salvation Army at Christmas for so many of the same reasons I love it throughout the year—for its passion, its compassion and its integrity. I love that people know they can turn to The Salvation Army for a streamlined, trusted process to reach those in the most need at a joyous, yet for some, a heartbreaking time of year.
I love that at Christmas, we have fun, tremendous opportunities to engage people of all ages, families, groups, to start heartwarming and fulfilling traditions that can span generations. I love that, in Phoenix, for example, we can serve 50,000 children with new toys at Christmas through our Christmas Angel program, and we know the day and the hour their families are assigned to pick up those toys. It's unparalleled integrity and accountability.
Our Thanksgiving and Christmas dinners are far more than lovely meals. We transition the time together into amazing events, as our guests enjoy live entertainment, free haircuts, manicures, phone calls to loved ones, visits with Santa, family photos, games, gifts, and simply a time to celebrate the true significance of the season.
The Salvation Army is a one-of-a-kind organization that blesses not only those on the receiving end of its goodness, but those in a place to give back as well. The Army is a magical organization, tailor-made for those looking for a most meaningful way to celebrate the true meaning of Christmas.
To see the happiness
My name is Major Salvador Gonzalez, and I love The Salvation Army at Christmas because I love to see the happiness on the people's face.
We can help lots of kids
My name is Nancy from Portland, Oregon. I love The Salvation Army at Christmas because people are in the giving spirit, and that means we can help lots of kids and show love to them through Christ.
Opportunity to come alongside people
My name is Captain Anthony Barnes from Las Vegas, Nevada, and I love The Salvation Army at Christmas because it gives us an opportunity to come alongside of people who have sometimes been forgotten and remind them that they're seen, and that they're loved, and that they have a community that surrounds them. It's such a privilege to do what we get to do and to see the joy on the kids' faces and on the family's faces. There's nothing that compares to that.
Community comes together to serve
My name is Meagan Ruff. I'm from Yakima, Washington. And I love The Salvation Army at Christmas because the community comes together to serve one another like the body of Christ.
Last Christmas, I had a teenage boy come to volunteer an event. And as he checked in, he told me that he had been provided warm winter clothing as a child through the same Salvation Army event. He was overjoyed to be back as a teenager and serving the children in our community in this way. God used The Salvation Army to care for him as a child and was now sending him back to do the same for others.
And finally, I want to introduce you to Matthew Kailihou who will be ringing the bell for The Salvation Army this Christmas for the 49th year. That's 49 years of standing next to a kettle, greeting people and spreading Christmas cheer while raising funds for those in need in his community. He's going to share more about what got him started, why he continues to volunteer—and he's going to close out this episode with a special treat. Here's Matthew…
It gives me joy
Aloha. My name is Matthew Kailihou from Wailuku, Hawaii. I love The Salvation Army at Christmastime because it gives me a joy to help people, especially when it's time to be out there, ringing the bells, just to make the Christmas spirit more joyful, and people will be more willing to volunteer and give their time to help others. That is why I love doing this for The Salvation Army. For the last 48 years, I've been doing it. And I would encourage all of you volunteers, if you have time to come out and give a little time to this celebration so we can help people that need help at this time.
My involvement with The Salvation Army was with a man named the Reverend Clarence Kamai. We started off playing music one day in his garage and he asked me, "Hey, what are you doing during the Christmas holiday?" I says, "I'm not doing anything." He asked me, "How about we do something?" And I said, "Yeah. Let's go volunteer our time with The Salvation Army." And it was him that really got me to come out there and use our music to volunteer and draw people to the Christmas Kettle. And they were really enjoying it because at Christmastime, to me, we felt that that was the time mostly that they would enjoy the giving spirit. And so that's what got me started. And for the last 48 years, I have done it. Since he died, I continued taking it over.
So at this last season, I had a bunch of friends, several brothers that are pastors and just friends in general that came out to join me at The Salvation Army kettle, wherever I was. Last year, we were at Walmart. And so they just saw me there and they just came and stopped by and got their ukuleles and guitars and just started coming to play. And they really enjoyed it because they too felt the sense of giving back. This was their way of giving back to the community by just coming, even just to play a few songs. That made it an enjoyable Christmas for them.
One day as I was growing up and I saw a bunch of Salvation Army people, they were out there with their trumpets or whatever they played, and they were just enjoying themself, playing some Christmas music and also some Christian music. And so when I saw them doing that, I said, "Well, when I get older, I would like to one day do that and be a part of this Salvation Army giving back." And so when I finally had the chance to do what I wanted to do, it came in 1974. And when we first started off, we started off in Lahaina from 1974 until 1976. Then we came back to Kahului and we started playing at the Safeway that is no longer here in Kahului. That's where we started.
And that year we had visiting hula troops from Oahu that came by on a vacation and they stopped and saw what we did. And they asked us if they could participate. And so we said, "Yeah. Why not?" So they took out their instruments, they played a few songs and their dances, danced a few numbers. That I remember because the officer at that time who was here was a lieutenant. And what he did was he just had dropped the kettle off to us at nine o'clock. And at 11 o'clock that morning, he had to come back and empty it out. So when we called him, he says, "Why am I coming now?" I says, "Because we have no room in the kettle."
Because of what these hula troops did for us, helping us that day, that is why from that time on until now, this is what gives me the joy every year to come and volunteer and help The Salvation Army. And I just cannot wait to do it again. So this will be my 49th year ringing for The Salvation Army. So I encourage again, all you volunteers, you have nothing to do on the Christmas holidays, come out, sign up with The Salvation Army and be a volunteer. It would make you feel joyful and helpful if you know you are helping people who are struggling.
Additional resources:
Listen and subscribe to the Do Gooders Podcast now.